The University of Hawaiʻi Board of Regents awarded an Honorary Doctorate of Humane Letters degree to Carol Burnett, a world-renowned philanthropist and living legend in the entertainment industry.
The degree celebrates the legacy the long-time TV actress and part-time Hawaiʻi resident has established through the Carol Burnett Fund for Responsible Journalism in the School of Communications in the College of Social Sciences at UH Mānoa. The fund was endowed with money Burnett was awarded after winning a successful libel suit against the National Enquirer.
"Numerous communications students have received training and recognition in the study of ethical journalism thanks to her generous gift," said College of Social Sciences Dean Denise Konan. "The beneficiaries of her contribution are the next generation of journalists and will result in a better-informed, better-served public."
The degree was presented by the UH Board of Regents Chair Ben Kudo to Burnett at her March 7 show "An Evening of Laughter and Reflection Where the Audience Asks Questions" at the Blaisdell Concert Hall in Honolulu.
The Carol Burnett Fund for Responsible Journalism also established an annual lecture series that brings prominent mainland journalists and/or ethicists to the Mānoa campus. Guest speakers provide a formal public lecture, participate in a panel discussion with Hawaiʻi journalists, and interact with students in the classroom.
Scholarship winners honored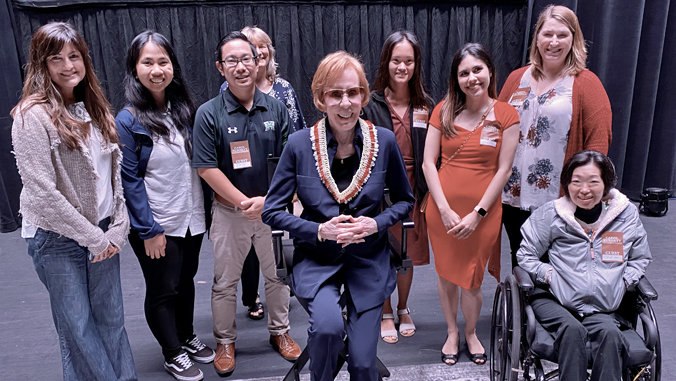 At Burnett's March 6 show, a group of UH Mānoa journalism alumni who are past recipients of the Carol Burnett Award for Responsible Journalism presented the entertainer with a lei and plaque of appreciation. The plaque contained the names of nearly 100 scholarship recipients from 1982 to 2019.
"The audience clapped and cheered when the alumni and the Ka Leo student newspaper editor stood up and showed the plaque with 93 award winners listed," said Ann Auman, journalism professor. "Later, Ms. Burnett saw the group backstage and everyone was happy to be there. One attendee described the experience as a magical moment."