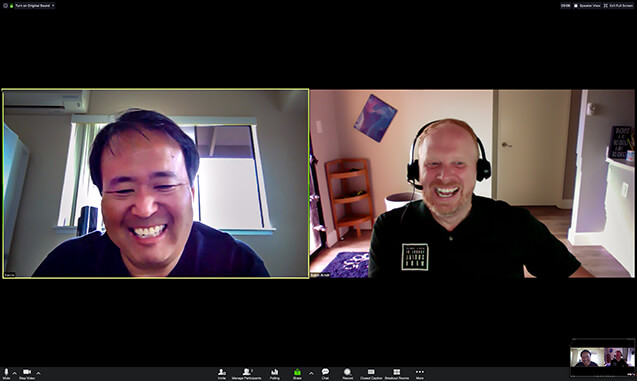 Faculty at the University of Hawaiʻi at Mānoa Myron B. Thompson School of Social Work are collaborating on a Zoom Buddy System developed to support colleagues who have not had practice teaching through Zoom or online, with other faculty who have experience in distance education.
UH Mānoa MBT School of Social Work's Robin Arndt, a junior specialist and field education coordinator, is paired as a Zoom buddy with Darrin Sato, a lecturer who teaches in one of UH Mānoa's campus-based courses.
"I have been teaching via Zoom or other similar platforms and with our distance education program since 2011," said Arndt. "In pairing one faculty member with another, we hoped to make the transition as easy as possible by providing support both before the first class goes live, as well as throughout the semester on how to implement different classroom activities."
The addition of the Zoom Buddy System, as well as the opportunity to support one another, highlights our collaborative nature, as social workers, and our shared desire to support our students.
—Arndt
During the last week, Sato participated in a Zoom training session facilitated by Arndt, his department chair and social work faculty with extensive experience in distance education. Afterwards they spoke on the phone to arrange next steps. For Sato's first online class, Arndt will be on-call and can jump in on the platform to assist him. For his second class, he asked Arndt to be available as he incorporates other class activities that may require additional assistance.
"We have been communicating regularly so I feel very supported and confident in the process," said Sato. "It's important for us to be positive for the students. They need our support, understanding and empathy during these tough times."
Both Sato and Arndt encourage other faculty to reach out for help and ask their colleagues questions. The transition to online learning is an opportunity to connect with other faculty and learn from their successes and challenges.
"We are fortunate that our department of social work has a strong history of offering both a campus-based and distance education option," Arndt said. "The addition of the Zoom Buddy System, as well as the opportunity to support one another, highlights our collaborative nature, as social workers, and our shared desire to support our students."
—By Sarah Hendrix