The University of Hawaiʻi is extending the deadline to apply for admissions to UH Mānoa, UH Hilo, UH West Oʻahu to August 1, 2020, the same deadline as the seven UH community colleges. This will give prospective students additional time to consider a UH college or university for the 2020–21 academic year under the new uncertainties associated with the COVID-19 pandemic.
Students are encouraged to apply as early as possible, particularly if they are interested in financial aid.
The announcement was made during a Wednesday, March 25 news conference by Gov. David Y. Ige, a UH graduate.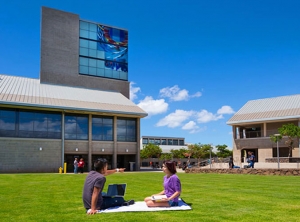 "For parents and students who are now thinking about staying home for college, you can't beat the opportunities across the University of Hawaiʻi System," said UH President David Lassner, adding that there is something for everyone at UH—from graduating high school seniors, to students on the mainland wanting to return home, to adults looking for improved economic opportunity through a career change.
"The UH system offers a wide range of amazing higher education programs across the state," said Lassner. "We're recognized around the world as affordable at every level, from our amazing community colleges to our welcoming baccalaureate universities to one of the world's great research universities."
Graduate application deadlines for UH Mānoa are set by the specific graduate program. However, some graduate programs will continue to accept applications. Prospective applicants should contact the graduate program(s) that they are interested in for further information. Here is a link to graduate programs that are administered by Graduate Division: graduate programs list.
Data show that people who earn a college degree or certificate earn more money over their lifetimes, are less likely to become unemployed in a recession, return to the workforce faster after a recession, live longer, live healthier, are less likely to become incarcerated, vote more, volunteer more, and their children are more likely to also pursue a higher education and experience these same benefits.
Go to the University of Hawaiʻi application website for more information on how to apply.