Julia Hammer mixing up a batch of hand sanitizer.
University of Hawaiʻi at Mānoa students, faculty and staff are continuing to do research and provide innovative solutions in science while practicing social distancing. To document the research during the COVID-19 pandemic, the School of Ocean and Earth Science and Technology (SOEST) is asking the UH ʻohana to showcase their work on Instagram and use the tag #ScienceMarchesOn.
To participate, when you post on Instagram use #ScienceMarchesOn in the caption and tag @soest_uh in the post.
#ScienceMarchesOn examples
Julia Hammer, an earth sciences professor, mixed up a batch of hand sanitizer to share with laboratory researchers needing to keep tabs on sensitive equipment. Hammer studies the chemistry and microstructure of volcanic rocks to learn more about lava, volcanoes and the processes happening beneath Earth's surface. For the rest of the semester, she is teaching geology courses at the introductory and upper division levels, and mentoring three graduate students.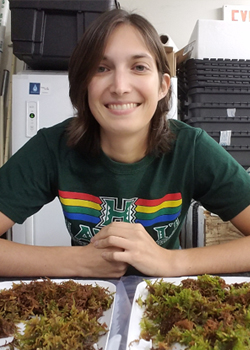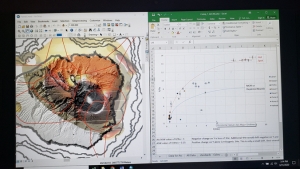 Kelly Truax, a graduate student in SOEST's earth sciences, along with her advisor Henrietta Dulai, an earth sciences professor, is trying to use laser-induced fluorescence to detect metal toxicity in vegetation. So far, they have proven this technique can detect copper sulfate and aluminum. When the contaminated moss is hit with laser energy, Truax describes the aluminum in the tissues lighting up "like a tiny rave party." Interestingly, when moss experiences the extreme stress of metal contamination, it responds by reproducing.
"Its response to stress is basically to keep trying to thrive regardless of the environment," Truax said. "Moss is one of the most resilient and robust vascular plants but also one of the most simplistic in terms of its structure."
During this time of social distancing, Truax is working in photo editing software to best view the images and determine how to process the data so she and her colleagues can interpret the information.
Colin Ferguson is a geoscientist, geochemist, geothermalist and graduate student researcher at UH Mānoa who is currently finishing his master's research on a project looking for hidden geothermal resources across Hawaiʻi.
"Since all of my fieldwork is done, working from home is only slightly different than working in the office—with the exception of my children being present," Ferguson said. "My work will help transition Hawaiʻi to a more carbon-neutral future, as well as inform us about water resources and magmatic influence on the older islands."
—By Sarah Hendrix