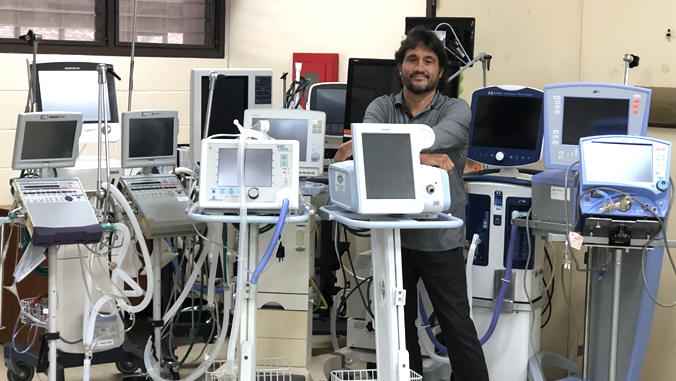 The respiratory care practitioner program at Kapiʻolani Community College has 11 ventilators ready to loan to local healthcare organizations in anticipation of an increased need in the coming weeks.
A mechanical ventilator or respirator provides life saving support to treat patients who are unable to breathe on their own. Hawaii Healthcare Emergency Management coordinates the distribution of supplies and equipment and will oversee the loan process and direct the use of the ventilators where they are needed most.
The Kapiʻolani CC emergency medical technician program, located on Hawaiʻi Island, has also made available two portable ventilators and supplies to Hilo Medical Center to support the preparation efforts there.
"We know that despite our best efforts using social distancing and good hygiene and respiratory etiquette, there will be an increased number of people in our community, our ʻohana, who will be admitted to our local intensive care units in respiratory distress. The availability of ventilators will be critical, literally the difference between life and death," said Lisa B. Radak, Kapiʻolani CC dean of health academic programs.
"These ventilators could potentially save hundreds of individuals. There was no question Kapiʻolani Community College would loan them to our healthcare partners during this crisis. We can only hope they are not needed."