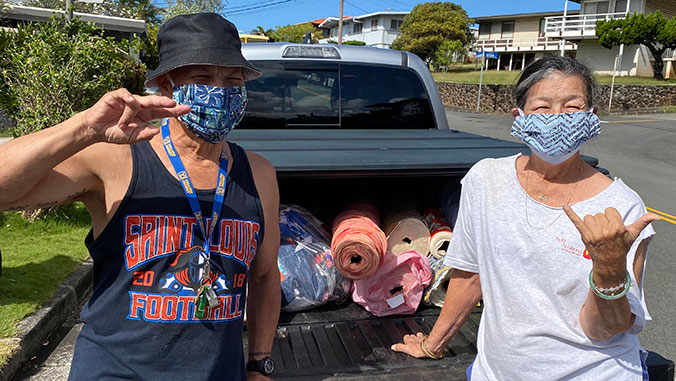 Editor's Note: April 15, 2020—Department of Molecular Biosciences and Bioengineering Professor Samir Khanal donated 1,000 face masks to the cause after reaching out to his friends and colleagues in Hong Kong, mainland China, and Macao.
The University of Hawaiʻi at Mānoa College of Tropical Agriculture and Human Resources (CTAHR) has put out a call for volunteers to sew face masks to meet the demand needed by the UH Mānoa facilities department.
Unable to order masks in the quantity they need, UH Mānoa facilities is asking for donations of masks for its 300 employees, all of whom are still at work on campus keeping the buildings and grounds safe, sanitary and operational.
To help the cause, CTAHR alumna Sylvia Kop and husband Mark, owners of Hula Supply Center, donated more than 500 yards of fabric. All that is needed are volunteers to sew. At least one mask for each facilities employee would be great, but two each would be better, so they can be laundered between wearings—a total of 600 masks.
Several patterns will work. This pattern (scroll down to download the pattern and watch an instructional video) has been endorsed by St. Luke's Hospital, which services the greater St. Louis, Missouri area.
Contact CTAHR alumni connection coordinator Jessie Radovich at radovije@hawaii.edu to volunteer, donate material or coordinate the pick up of completed masks.