In one online class, toddlers and preschoolers are swinging their arms, legs and more "in and out" to the Hokey Pokey. In another, they are proudly holding up appropriately colored stuffed animals and other objects they've collected in advance, as the teacher reads Brown Bear, the beloved Eric Carle book.
These are the children and families from children's centers on three University of Hawaiʻi Community College campuses, which closed due to the COVID-19 crisis. The centers' faculty and staff, including 12 early childhood education (ECE) students from Honolulu CC who were working on their practicum in these "laboratory" settings, are keeping keiki and their families engaged during the spring semester.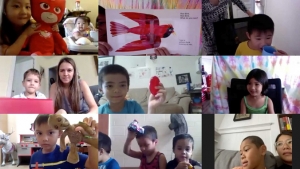 "For the advanced lab and practicum courses, which normally involve college students working with children in the classroom, the faculty faced a big challenge as children's centers closed," said Caroline Soga, ECE program coordinator. "The faculty thought carefully about how to engage the students in planning virtual and hands-on learning experiences for the children, taking into consideration all the areas of the children's learning and developmental needs."
Good advice
The centers, Keiki Hau'oli Children's Center (Honolulu CC), Alani Children's Center (Kapiʻolani CC) and The Children's Center (Leeward CC), are also providing parents with advice, support and resources. In March, the ECE program shared these thoughts in an email to parents:
Don't try to be a perfect parent right now. It's okay to not have the day entirely planned with educational activities and enriching time. Give yourself permission to know that some days dinner may end up being cereal and the kids will watch six consecutive hours of Paw Patrol so that you can get work done or get your sanity together—and that is okay. We are all just doing our best.
Young children will likely come out of this time with the memory of how the emotional environment of their home felt for them, not what they did. This means that a priority for families is self-care. If you're feeling overwhelmed and anxious (and who isn't), having your own toolkit of what supports you feeling better is crucial for getting to a place where you can support your children. The Centers for Disease Control and Prevention has a wonderful page on Coping with the COVID-19 situation.
The best thing for young children is to just let them play! Uninterrupted free play IS learning. This is a great time for children to discover all of the things they are able to do without adult support—building problem solving skills, curiosity and imagination. Boredom builds brains!
Helpful links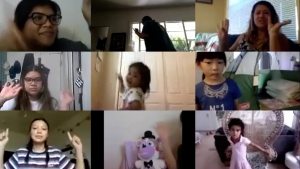 The program shared some useful links for parents:
Soga said ECE faculty have been holding regular circle times online with classrooms, recording story libraries for parents to access, and having lab students take roles in leading online small groups. Other initiatives the ECE department is undertaking include Zoom ECE advising sessions, the creation of online portfolios showcasing children's development, and a collaboration with the emergency medical technician program at Kapiʻolani CC to create educational content for first responders worried about their children's well being during this time.
—By Kelli Trifonovitch