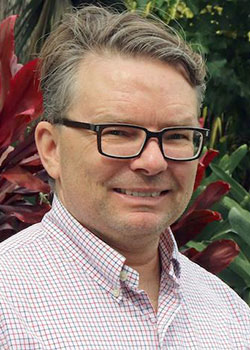 University of Hawaiʻi at Mānoa's College of Tropical Agriculture and Human Resources Fashion Design and Merchandising Professor Andy Reilly was accepted into the Fulbright Specialist program, where he will be matched with institutions around the world to serve as a short-term visiting expert and collaborator in research or instruction.
Reilly's specialty is the intersections of sexuality, gender and dress, as well as post-postmodern theory as applied to appearance and the fashion industry. His research investigates appearance-related issues surrounding gender and sexual identity. He tests and develops new theories of fashion adoption, fashion change and the consequences of fashion-related behaviors.
Fulbright Specialists are competitively selected for their accomplishments and ways they can contribute to their profession. They are matched up with host institutions internationally to provide two- to six-week assistance programs.
Said Reilly, "I'm looking forward to serving as a Fulbright Specialist because I want to contribute my knowledge, exchange ideas and information from other cultures, and establish continuing networks and partnerships with international scholars and schools. I want to encourage and mentor beginning educators and researchers."
And he has plenty of ideas about how he can help. "I can provide seminars or guest lectures on dress in the LGBTQ community, including the semiotic structure and aesthetics of identity; clothing needs and issues of transgender consumers; or post-postmodern theories and perspectives related to the fashion industry," Reilly offers. "I can assist with curriculum development for classes on the social-psychology of dress or the fashion industry in a post-postmodern era."
Although the program has been suspended until it is safe to travel again, Reilly is eager to start working with other institutions in the future.