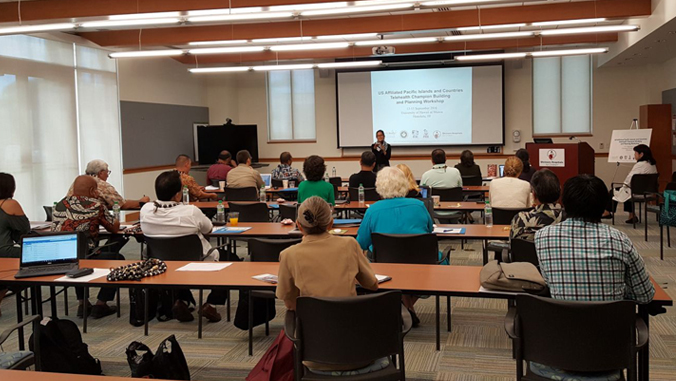 When Hawaiʻi Gov. David Ige touted telehealth as a key component in the fight against the COVID-19 pandemic at an April 16 news conference, it marked a milestone moment for the University of Hawaiʻi at Mānoa Pacific Basin Telehealth Resource Center (PBTRC). Since it was established in 2010, PBTRC has been advocating for telehealth, the delivery of healthcare via telecommunications technology like video conferencing, online and telephone.
"Telehealth adoption in Hawaiʻi was only about 20.5 percent before COVID-19 and now I've witnessed more progress in the past few weeks than I have in the last several years," said PBTRC Co-Director Christina Higa, a UH Mānoa College of Social Sciences faculty member. "It has been amazing to see so many people and organizations coming together and work tirelessly to keep people safe and healthy."
PBTRC helping in COVID-19 response
PBTRC plays an important role in the response to the COVID-19 pandemic as the demands for screening, testing and safe healthcare continue to skyrocket. The center is assisting the Hawaiʻi healthcare community with the transition including telecommunication aspects.
"Telehealth plays a major role in minimizing patients, families and healthcare providers potential exposure to COVID-19 by providing healthcare in the safety and convenience of their home," said PBTRC Co-Director Deborah Peters, a UH Mānoa John A. Burns School of Medicine (JABSOM) faculty member. "This is especially important for people with chronic diseases and those who need ongoing care."
The center's decade-long commitment to expanding the availability of healthcare via telehealth has better prepared Hawaiʻi for this moment. In support of the overwhelming assistance requests during this outbreak, PBTRC began conducting weekly telehealth training and arranging for experienced telehealth providers to train those just getting started. The center also assists multiple provider groups, including the Hawaiʻi Primary Care Association and the Native Hawaiian Health Systems.
PBTRC and JABSOM's Department of Geriatric Medicine plan to host training for the skilled nursing facilities, long-term care, hospice and other elderly care providers in the context of COVID-19.
UH program part of national consortium
The center is one of 14 federally funded telehealth resource centers in the U.S. and is a member of the National Consortium of Telehealth Resource Centers.
"It is one of our strengths as we have a wide network of support across the country and share best practices," said Peters. "The consortium tracks federal law and policies that make telehealth more accessible."
PBTRC now tracks and notifies local authorities on the sweeping federal and state emergency policies adopted in response to the pandemic.
"We work with local state agencies including the Hawaiʻi Department of Health and the state Medicaid program to identify needed state emergency waivers, and policies to match federal actions and meet community needs," said Higa.
At their request PBTRC often provides assistance to legislators as they work to address telehealth reimbursement, broadband, licensing and other issues. The center facilitated input from stakeholders that contributed to Hawaiʻi's progressive telehealth state law adopted in 2016.
More on PBTRC
The center is a collaboration between UH Mānoa College of Social Sciences and JABSOM and is part of the UH Mānoa Social Science Research Institute. It is funded through a cooperative agreement from the U.S. Health Resources and Services Administration. PBTRC's service area includes Hawaiʻi; Pacific Island Territories including Guam, American Samoa and the Commonwealth of the Northern Mariana Islands and the Pacific Islands with a compact of free association with the U.S. including the Federated States of Micronesia, Republic of the Marshall Islands and Republic of Palau.
See the PBTRC website for telehealth and COVID-19 resources for providers, patients and families.