Calling all Rainbow Warriors and Wahine! The University of Hawaiʻi at Mānoa character has been selected for the 2020 Tokyodachi Mascot Mania tournament and needs your help to win!
Voting for the competition starts April 20, and on April 29, students will get the first opportunity to vote for UH Mānoa where they will go head to head against Radford University.
To vote, go to Tokyodachi's Instagram and click on their profile photo. This will open their Instagram stories where students can select one of two options on a poll at the bottom of each post. To skip forward or backwards through the Instagram stories, tap either side of the post. The voting polls will only be up for 24 hours once posted, and results will be shared daily between 11 a.m.–1 p.m. EST.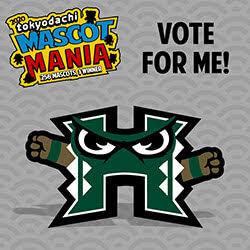 This light-hearted tournament is a great opportunity to spread the word about the UH Mānoa character and stay engaged on social media with fellow 'Bows.
The character was designed by Zephyr for the contest. "Tokyodachi fans like [the UH character] because it is so unique," said Zephyr President David Gormley. "I think Hawaiʻi can do well in the tournament if we get support from the school and its fans."
In last year's tournament, Tokyodachi garnered more than 230,000 votes with 192 schools involved, and is expanding the game this year with 256 schools. Grand Canyon University is defending its title, but any school can win. The winning campus will earn its own custom Tokyodachi merchandise line.
Follow @tokyodachi on Instagram and turn on post notifications to stay up-to-date with the tournament.