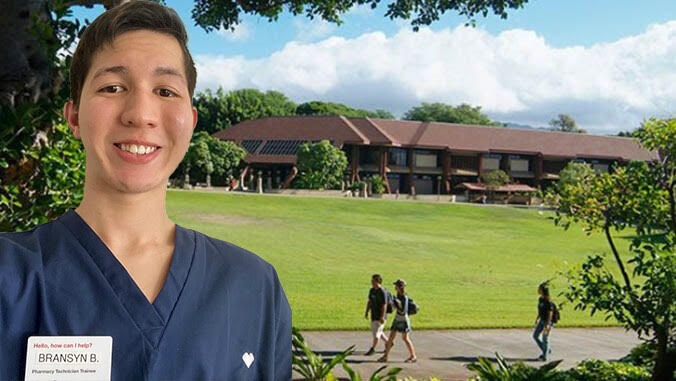 An ambitious high school student is set to receive a certificate of competence in pharmacy tech from Kapiʻolani Community College before he graduates from Castle High School this spring.
Bransyn Bethel heard about the Pharmacy Technician Program that Castle High School was offering through Kapiʻolani CC. The program sounded promising, so he applied and was accepted.
At 17 years old, Bethel experienced the loss of several loved ones, giving him the weight of responsibility in being the only male member remaining in his family. The added pressure was not knowing what he wanted to do after he graduated from high school.
By being part of the pharmacy technician program, however, his career path became clear. After he graduates from Castle High School, Bethel hopes to pursue a career in the medical field, "to ease the burden of losing a loved one. My goal is to be accepted in the nursing program at Kapiʻolani Community College."
Bethel's determination
In the program, Bethel learned about pharmaceuticals during in-class lectures and created blister packs and filled pill capsules during in-class labs and hands-on training. He feels the structured curriculum provided him the right preparation for tests as well as real-life experiences leading to externship hours at a pharmacy site.
Unfortunately, because of COVID-19, his externship was suspended a few hours short of his requisite training. Undaunted, Bethel took the initiative to apply for a paid position as a pharmacy technician. He was hired and is the first to report employment in his pharmacy technician class. Due to the extraordinary COVID-19 situation, Bethel will earn and learn as his 160-hour externship requirements will be accomplished with his on the job learning as a new employee. At the same time, he is working with his advisor at Castle High School to ensure he has fulfilled all the requirements for his high school degree.
Bethel is grateful for the Pharmacy Tech Program offered through Kapiʻolani CC and the wonderful staff at the college and at Castle High School who provided the support and encouragement for him to complete the program. He said, "I cannot wait to make a difference in my community during this time of need."
—By Louise Yamamoto