Leeward Community College's marketing director has received a prestigious national honor. The National Council for Marketing and Public Relations (NCMPR) named Kathleen Cabral, the 2020 Communicator of the Year in April. The award recognizes a two-year college marketing professional who demonstrates leadership and ability in community college communication.
NCMPR recognized Cabral in a FaceBook live ceremony and a replay of that event can be viewed on NCMPR's FaceBook site.
Cabral has worked at Leeward CC for 38 years; serving as theatre manager for 20 years and handling all institutional marketing and communication for the past 18 years. Throughout her career, she has taken on new challenges. When the college's website was in dire need of a facelift, she took the lead to create a new site, overseeing design, information collection and writing. Today, the website is considered among the best in the state. As an early adopter of social media, she developed the college's first social media sites, and she continues to maintain and update them, creating a 24/7 presence for Leeward CC in the digital world.
"NCMPR could not have found a more deserving recipient of the 2020 National Communicator of the Year award," said Leeward CC Chancellor Carlos Peñaloza. "Kathleen's unwavering and altruistic commitment to her field is demonstrated through her work with university leaders and students in telling our story, celebrating our triumphs and keeping us informed. Our success is her success; Kathleen's efforts help set Leeward Community College and the University of Hawaiʻi Community Colleges apart and adds to our distinction."
Vital work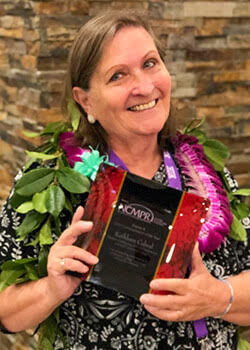 Cabral's work illustrates how vital marketing's role is to the community college as a whole, especially when it comes to accreditation. She helped to develop Leeward CC's program review process, created all college accreditation documents and has played a critical role on committees to host accreditation team visits.
Finding ways to improve student engagement, faculty involvement and community awareness are constant goals for Cabral. In the past year, she chaired the college's 50th anniversary committee, launched targeted digital marketing campaigns for new academic programs and helped with strategic planning. She also advises administrators on fundraising campaigns and leads the college's online accessibility initiative.
"It's the kind of work that hardly gets any notice but is so vital to making our communities a better place," said Susan Lee, the UH Community Colleges's recently retired marketing and communications director. "Kathleen is deserving of this award not only for her distinguished service to our educational institutions and professional organizations, but also for the valuable contributions she has made to our communities."