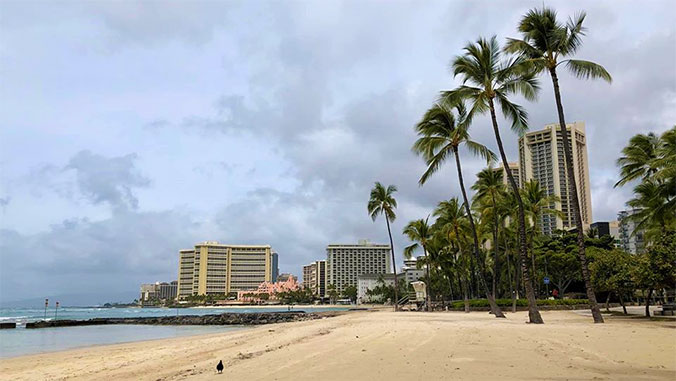 Results of an economic survey show Hawaiʻi businesses are suffering greatly due to COVID-19 and many look forward to resuming operations once they are cleared to reopen.
The survey, conducted in April 2020 by the University of Hawaiʻi Economic Research Organization and the Chamber of Commerce Hawaii, received responses from 623 businesses. Philip Garboden, Hawaiʻi Community Reinvestment Corporation professor in affordable housing, and assistant professor in UHERO and the Department of Urban and Regional Planning in the UH Mānoa College of Social Sciences, said the hardest hit industries are accommodations (hotels), down 83 percent in full-time employee reductions, and retail businesses, down 76 percent.
Garboden also said most businesses surveyed anticipate reopening as soon as they are allowed, and 60 percent said they could return to full staff almost immediately, with the rest phasing in as tourism resumes.
Findings also show that while there have been more cases of job loss on Oʻahu, its percentage (38 percent) is lower than for businesses on Maui (58 percent), Kauaʻi (52 percent) and Hawaiʻi Island (48 percent), due to a larger share of tourism-related companies on the neighbor islands.