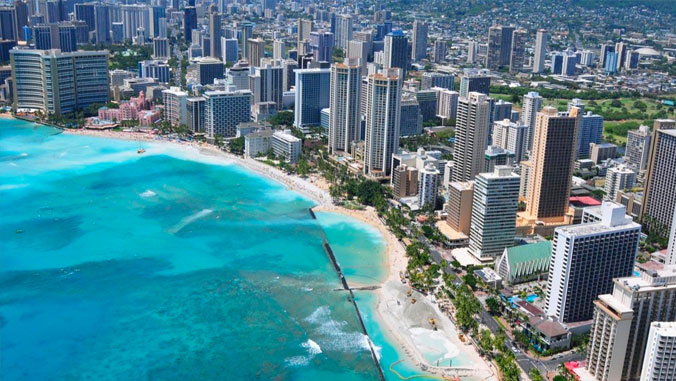 In January, Carl Bonham and other economists in the University of Hawaiʻi at Mānoa College of Social Sciences (CSS) began following news out of Wuhan, China, about a developing respiratory disease referred to as the coronavirus. Bonham, an economics professor and director of the University of Hawaiʻi Economic Research Organization (UHERO), worked on the organization's first-quarter forecast report and watched a marked pullback in international passenger counts from Australia, China and South Korea. At the time, there were no signs of declining arrivals from the larger Japan and U.S. destinations.
In response to the growing risk, UHERO's February 24 forecast, "Coronavirus Presents Danger to Hawaiʻi Tourism," described a probable downside scenario, similar to what the state saw during the SARS (Severe Acute Respiratory Syndrome) epidemic of 2002–2003.
"Within a week of that report going out, it was clear that this was going to be a much bigger deal," said Bonham. "By that time the disease had spread to Japan, Italy, Iran, South Korea and other countries, as well as two-thirds of U.S. states. This was going to be a huge blow to the global and Hawaiʻi economies."
On March 10, UHERO released an urgent interim forecast update, "COVID-19 Will Impose Significant Economic Impacts in Hawaiʻi," followed by a March 30 update, "Hawaiʻi's Economy is Shut Down to Deal with COVID-19." Those predictions were part of an accelerated output of forecasts and opinion briefs that continue to be sought out by government leaders, business sponsors and the public.
"UHERO is our main source for objective and authoritative information about Hawaiʻi's economy and its prospects," said Mark Fukunaga, CEO of Servco Pacific. "With all of the volatility in the world, it is essential to know where you are and to have a sense of where you are headed, and UHERO helps us figure out those things."
Added Mike Fujimoto, chairman of HPM Building Supply on Hawaiʻi Island, "I commend UHERO for providing our communities with such a valuable resource. The economic data and its tremendous accessibility are golden, and will allow all of us to make better decisions for our institutions and our community."
Founded by four faculty
UHERO was started in the 1990s by UH Mānoa economics faculty members—Bonham, Byron Gangnes, Denise Konan and Sumner La Croix—during the Asian financial crisis. "Long-timers will remember when Gov. [Ben] Cayetano assembled the Economic Revitalization Task Force, and we were highly concerned that significant policy decisions were being made without solid economic analysis," said Konan, now CSS dean. "Since we were capable of doing this kind of work in our own research and, in fact, we were consultants to the World Bank and other places, we thought, 'Why couldn't we step in and help Hawaiʻi during this time of need?'"
Founded in CSS in 1997, UHERO researched and published quarterly forecasts on general topics including the state and county economies, the construction industry and global developments. Richard Dubanoski, then CSS dean, set aside a small startup sum with the intent that UHERO become fully self-funded. Initially, funding came almost entirely from forecast work. Later, UHERO garnered additional support from grants and contributions from the business sector and community. This financial stability led to the hiring of graduate students, which served two purposes: to train the next generation of economists and to boost incoming operational funds when more traditional sources of funding were in decline.
UHERO also benefited from professionals within CSS, including most of its economics faculty. Currently, UHERO is led by four full-time CSS economists/specialists and one IT specialist, who supervise student research assistants and four employees from the Research Corporation of UH. Faculty and staff also work on data analytics and visualization, energy policy and planning, environmental policy and planning, forecasting and housing.
UHERO shifts into overdrive
With the coronavirus, UHERO was no longer behind-the-scenes. Bonham was appointed to the state Legislature's Select House Committee on COVID-19 Economic and Financial Preparedness, and was being contacted daily by reporters, government leaders and business executives to answer questions about the depth and length of the economic downturn. He was working constantly, fitting in time between back-to-back video calls to update forecasts, gather data, and coordinate with forecast, project management and communications teams. The entire UHERO office was called upon to shift into overdrive.
UHERO produced forecasts and briefs with timely data and guidance. An April 3 policy brief authored by emeritus economics professor and UHERO research fellow La Croix, and East-West Center senior fellow Tim Brown, titled "How to Control Hawaii's Coronavirus Epidemic and Bring Back the Economy: The Next Steps," was heavily quoted by government leaders and media. In addition, economics professor and UHERO research fellow Michael Roberts, and economics department chair and UHERO research fellow Tim Halliday, have been at the forefront of discussions about how Hawaiʻi might emerge and recover from the coronavirus crisis.
Coincidentally, COVID-19 is posing a threat to the current and future work of UHERO. Many of the sponsors and subscribers that underwrite forecasting and data-sharing efforts are from the hard-hit hospitality industry, which may result in reduced funding during this time of stepped-up need. In addition, with UHERO co-founder and key forecaster Gangnes leaving the islands this summer, sustaining and expanding UHERO's capacity to address this crisis, and the next, is a looming challenge for the organization.
"It is becoming increasingly evident that Hawaiʻi's battle with the novel coronavirus and its aftermath will not be a sprint, but a marathon," said Bonham. "Whether in government or business, people view us as an objective and qualified data-based source to tell it like it is. UHERO is committed to meeting the needs of the state throughout this long journey."
—By Lisa Shirota