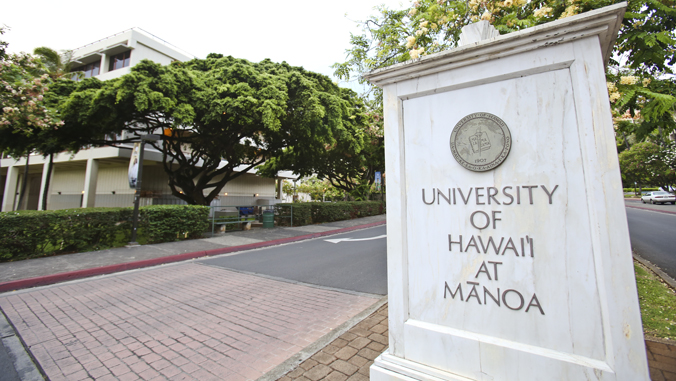 The University of Hawaiʻi at Mānoa is in the top 1 percent of worldwide universities and colleges, according to the Round University Ranking (RUR) world university rankings released on April 29.
UH Mānoa is No. 200 in the world and No. 65 in the U.S., placing UH's flagship campus in the "Golden League" tier out of an estimated 26,000 universities in the world. UH Mānoa's ranking is higher than the University of New Mexico (237 worldwide), Arizona State University (274 worldwide) and Oregon State University (309 worldwide).
RUR also rated UH Mānoa in the "Golden League" tier in the areas of teaching (156 worldwide, 59 U.S.) and international diversity (178 worldwide, 30 U.S.).
"These rankings reflect the excellence of our students, faculty and staff as potential applicants make important decisions on which institutions to attend in the fall," UH Mānoa Provost Michael Bruno said. "Hawaiʻi can take pride knowing that one of the top universities in the world is located right here in our state."
RUR is produced using data provided by Clarivate Analytics. The RUR world university rankings aim to guide potential students and their parents to choose the higher institution that suits their needs, assist professors with finding collaborators from other universities and serve as an assessment tool for managers of universities. About 1,100 of the world's leading universities from 82 countries are considered for the rankings.
Other rankings
UH Mānoa also received the following prominent rankings:
For more information, see the Mānoa Institutional Research Office website.
—By Marc Arakaki