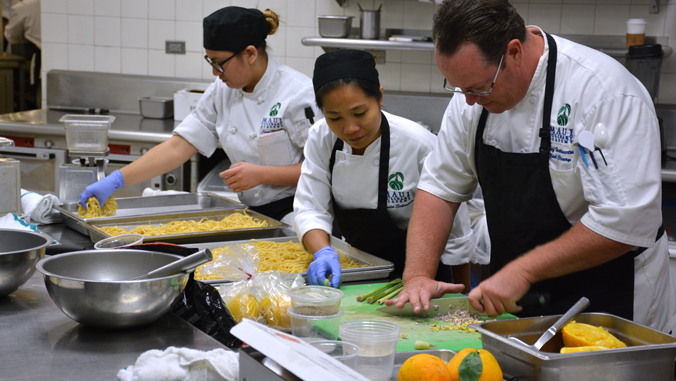 The University of Hawaiʻi Maui College is ranked No. 1 and Kapiʻolani Community College No. 7 on GradReports' 25 Best Associate in Culinary Arts Programs 2020. The rankings were based on median starting salaries. Graduates of the culinary arts associate degree program at UH Maui College earned a median $37,600 in their first year after college.
"It's an incredible and humbling honor," said UH Maui College Program Coordinator and Pastry Chef Teresa Shurilla. "It's a tribute to our faculty, staff, administration and students. Even in this challenging time with our kitchens and classrooms closed, we are forging ahead making use of every available technology. And it underlines the importance of all us supporting our food and beverage community. We want all our graduates to thrive in industry when it's safe out there once again."
Johnson Park Community College in Kansas ranked No. 2 with an average median salary of $34,400. The well-regarded Culinary Institute of America was ranked No. 5. According to GradReports, Kapiʻolani CC culinary graduates had an average median salary of $29,300.
Kapiʻolani CC Chancellor Louise Pagotto said, "We are especially proud of our experienced faculty and the quality of our graduates, who can be found in the best restaurants and hotels around the world."
GradReports' rankings are based on median early-career salary data of more than five million graduates in dozens of different programs of study from the U.S. Department of Education's College Scorecard.
—By Kelli Trifonovitch
Related UH News stories and videos: