At the University of Hawaiʻi at Mānoa John A. Burns School of Medicine (JABSOM), the circumstances of COVID-19 have brought out the best in its MD 2020 and MD 2021 classes. Members of the Gold Humanism Honor Society (GHHS) are paying it forward and launched the Aloha-19 Project, providing cards and care packages to 62 MD 2019 graduates, now interns working on the frontlines of the pandemic in Hawaiʻi and in other states.
The Aloha-19 Project was brought to fruition with the intent of helping MD 2019 graduates "boost morale and let them know we are thinking of them, thankful for their service, and so, so proud and in awe of them," said Shelly Wong, MD 2021 student and GHHS member. "I was so saddened by the COVID-19 situation and specifically thinking of the Class of 2019 and how this must make their intern year—an already difficult year—exponentially more stressful."
Sending aloha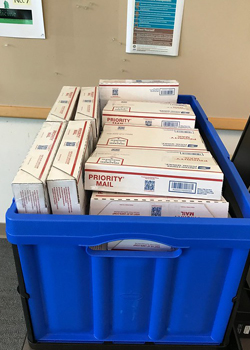 The JABSOM honor society will be sending 'aloha' to 62 interns—almost the entire MD 2019 class.
Outgoing GHHS President Kayla Murata and incoming President Lucia Amore found ways to support the initiative.
"We've all been working to make this project happen," Amore said. "We're lucky in that we have a solid JABSOM ʻohana behind us. Our GHHS chapter advisor, Dr. Damon Lee, has been supportive in helping us figure out the logistics of assembling these care packages in socially distant compliant ways."
The feedback from some of the MD 2019 class was that of gratitude:
Laura (Kurata) Ling: "Thank you guys so much for doing this! My husband [MD 2019] Carlthan is on the special COVID team at his hospital and I've been working in the ICU, which is almost exclusively ventilated COVID patients. Any encouragement would be much appreciated. Super proud to be part of the JABSOM ʻohana!"
Casey Young: "Aloha, from New York. Our city has been devastated by COVID. All the warmth and thoughts from afar really do help us stay strong."
Support such as Aloha-19 is a component of the Arnold P. Gold Foundation, "…to nurture and preserve the tradition of the caring physician." Established in 2002, the Gold Humanism Honor Society members model the humanistic qualities of integrity, excellence, compassion, altruism, respect, empathy and service. GHHS recognizes the practice of patient-centered medical care. This nurturing begins in medical schools across the country, with 160 chapters, including JABSOM.
This act of kindness helped the JABSOM honor society recently earn an "exemplary" ranking, which was based on a questionnaire sent to the 160 GHHS chapter advisors who were asked to identify events, activities and programs designed or conducted by GHHS medical students.
Murata added, "Together we are making our community a healthier and happier place, even in the face of adversity and uncertainty."