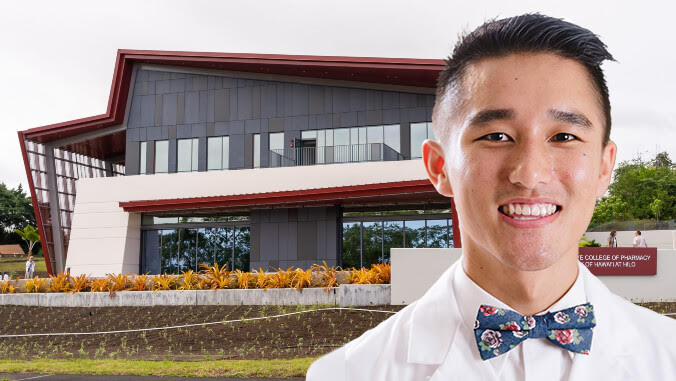 A third-year pharmacy student at the University of Hawaiʻi at Hilo Daniel K. Inouye College of Pharmacy (DKICP) won the national American Pharmacists Association (APhA) Patient Counseling competition.
Henry Quach, who competed against students from pharmacy schools across the country, will receive a plaque and $1,000 prize. As this year's national winner, Quach will return to help judge next year's APhA competition.
The national counseling competition is designed to encourage student pharmacists to develop their skills as healthcare providers and educators. The contest mimics a patient picking up medication for the first time and requires participants to counsel the patient on safe and effective drug use. This year's final round of competition involved the scenario of a mother picking up medication for her young son.
"She showed some signs of concern and anxiousness, but was very responsive to learning about the medication," Quach said.
Quach developed some of his counseling skills by serving as the lead on-site chair for Pacific Island Mobile Screening Clinic, an organization manned by DKICP students, to conduct health screenings and educate local residents about issues relating to chronic diseases, such as diabetes and high blood pressure.
Jarred Prudencio, DKICP assistant professor of pharmacy practice, also played a big role in helping him prepare for the contest. "I don't think I could have done it without all of his help and encouragement," Quach added.
—By Alyson Kakugawa-Leong