University of Hawaiʻi at Mānoa's Steven Hill, UH Community Colleges' Della Teraoka and Kapiʻolani Community College's Distance Education Implementation Team have been chosen as UH's nominees for the Governor's Awards for Distinguished State Service.
The award honors the state's executive branch employees and managers who exemplify the highest caliber of public service and dedication to serving the people of Hawaiʻi. There are three awards—Employee of the Year, Manager of the Year and Team of the Year.
UH President David Lassner said, "Our UH nominees have exhibited outstanding service. We are incredibly proud of their work and we wish them the best of luck in the Governor's Awards competition."
Employee of the Year nominee: Steven Hill, UH Mānoa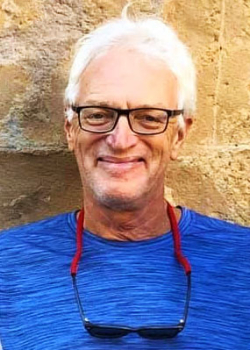 Hill has served as the director of the Fabrications Laboratory (Fab Lab) at the School of Architecture since 2010. He transformed the facility from a basic workshop into a fabrication lab with well-maintained equipment he provided on his own using creative savings and resourceful bargaining.
Hill has contributed to the design of portable display systems and implementing digital production methods. He assisted in the Innovation+Imagination (I+I) Student Challenge, gathering materials and donations, creating a summer workshop for younger students and developing the curricula for future training programs.
Hill has led students in a multitude of projects and programs, such as the Albizia House Project, a full-scale prototype made from invasive wood in Hawaiʻi; the 2X2 Exhibition to increase networking between the School of Architecture and the local design community; a collaborative creation of the UH Innovation Lab, or iLab, which now serves as a central hub for all students to exchange concepts and ideas; and the Hi Mod Project, to provide new work stations for students.
The most memorable of his contributions is the installation of wind-directing sails within the School of Architecture's courtyard space to provide shade in the hot, unsheltered space.
A colleague of his writes, "Steve is in every way a stellar employee with a clear dedication to the School of Architecture and the University of Hawaiʻi. His enthusiasm and dedication reach well beyond the confines of academe and extend into the community."
Manager of the Year nominee: Della Teraoka, UH Community Colleges
Teraoka has been outstanding in her service to Leeward Community College and the UH Community Colleges for nearly two decades. Starting as an instructor at Leeward CC, she currently serves as interim director of academic programming in the Office of the Vice President for Community Colleges.
When she was the Leeward CC vice chancellor for academic affairs, Teraoka implemented accelerated courses at the Leeward campus, including 5-week online courses; the creation and coordination of the Accelerated Online Associate in Arts degree with Leeward CC as the lead campus; and the fully-scaled Acceleration Initiative efforts which has placed Leeward CC as the top campus to move students through college-level math and English in one year.
"Launching the AA Online program within one year was a challenge and only possible because of Della's leadership at Leeward and within the system," said UH Community Colleges Interim Associate Vice President for Academic Affairs Tammi Oyadomari-Chun. "She demonstrated courageous leadership in taking on the challenge of establishing a new program."
Not only is Teraoka an effective leader, but an effective team builder as well. Aware of her team member's abilities and trusting their judgment and recommendations, she goes above and beyond to create and guide teams that complete excellent projects that ultimately benefit the students and community.
Teraoka is seen as an active leader who develops and administers programs that improve public service. She is an effective mediator and communicator, and colleagues know that she "tends to embrace and have the courageous conversations needed to define and resolve the issue."
Team of the Year nominee: Distance Education (DE) Implementation Team,
Kapiʻolani

CC
Consisting of current Interim Distance Education Coordinator Leigh Dooley; Instructional Designers Melissa Nakamura, Jamie Sickel and Helen Torigoe; faculty members Kelli Nakamura and Nadine Wolff; and Distance Education Counselor Kristie Malterre, this team strives to address the issues of distance education and establish the standards for DE courses that provide open access to higher education opportunities.
Team members have initiated and implemented DE training and professional development, helped establish the foundations for DE course review, and created institutional processes for DE course training and review that has been adopted by the UH system.
Through the endeavors of the DE Implementation team, great strides have been made to increase the quality and quantity of DE courses and degrees and promote state initiatives such as the Hawaiʻi Graduation Initiative.
As their nominator writes, "The efforts by the DE Implementation Team extend beyond Kapiʻolani CC to have a larger impact on the University of Hawaiʻi system and the thousands of students in Hawaiʻi and beyond, currently enrolled in online classes or degree programs."