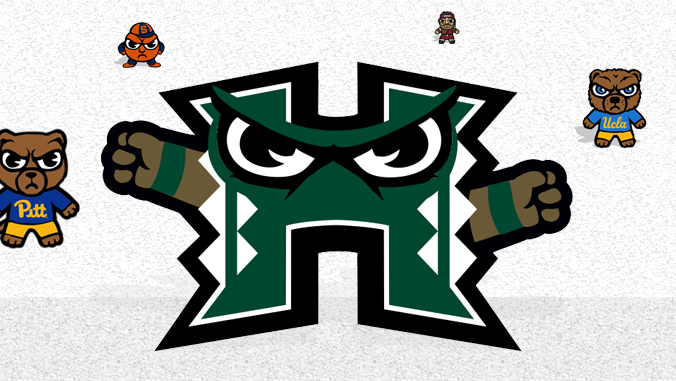 Mark your calendars and keep your support coming!
The University of Hawaiʻi at Mānoa's "May Madness" run rolls on. If UH Mānoa's character keeps its 2020 Tokyodachi Mascot Mania tournament win streak alive, voting for the remaining rounds will happen daily. But, keep in mind, this is a single elimination "one-and-done" contest so teams need to win to advance.
Round 5 (Sweet 16): Saturday, May 16 vs. University of Washington UPDATE: We did it! It was close, but thanks to every single one of your votes UH has moved on to face…
Quarterfinals (Elite 8): Sunday, May 17 vs. Fresno state
Semifinals (Final 4): Monday, May 18
Finals: Tuesday, May 19
How to vote
UH Mānoa's round 5 matchup is against yet another Pac-12 school in the University of Washington on Saturday, May 16. To vote, log on to Tokyodachi's Instagram and click on its profile photo in the upper left. This will open Tokyodachi's Instagram stories where you can select one of two options on a poll at the bottom of each post. To skip through the Instagram stories, tap either side of the post. The polls are open at approximately 5 a.m. HST for 24 hours, and results will be shared daily.
Scouting Report
If UH Mānoa takes down the University of Washington, its Elite 8 matchup will be against the winner of the University of Oregon and Fresno State. And if UH Mānoa keeps advancing, potential matchups include Big West Conference foes UC Irvine and Cal State Fullerton, and other Pac-12 powerhouses USC, Colorado and Arizona.
Mascot mania tournament
The tournament began on April 20 with 256 schools. Thanks to YOU, UH Mānoa took down ACC members Pittsburgh (round 4) and Syracuse (round 2), the Pac-12's UCLA (round 3) and Radford University (round 1).
This light-hearted tournament is an opportunity to showcase the UH Mānoa character and remain engaged on social media with fellow ʻBows.
UH Mānoa's character was designed by Zephyr and the winning campus will earn its own custom Tokyodachi merchandise line.
—By Marc Arakaki