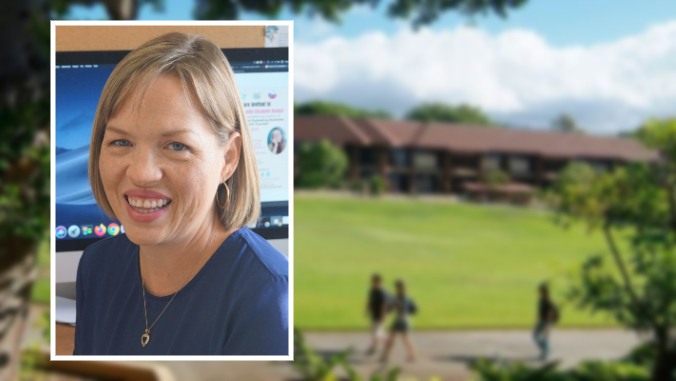 The Masaki and Momoe Kunimoto Memorial Award was established by Tadashi and Elizabeth Kunimoto to honor the founders of Chikara Products, Inc., specializing in Hawaiʻi foods such as Aloha Tofu, Maui Natto and Chikara Konnyaku. This award is given in alternate years: on even years to a faculty member, and on odd years to a student, who makes a significant contribution to career and technical education in the University of Hawaiʻi Community Colleges.
Kawehi Sellers
Kawehi Sellers is an assistant professor in the Hospitality and Tourism Education Program who has been with Kapiʻolani Community College for almost 10 years. Prior to coming to Kapiʻolani CC, Sellers was the director of student services at UH Mānoa's School of Travel Industry Management.
Sellers continually looks for ways to engage her students using creative approaches in teaching. She has done this through "gamification," where she has "gamified" HOST 101, Introduction to Hospitality and Tourism. She is well-versed in the use of technology platforms, and willingly shares these strategies with other career and technical education programs. Sellers fosters a classroom environment that encourages students to think innovatively and apply learned concepts toward real-world solutions.
One student said: "Professor Sellers has a marked selflessness toward students and makes herself available to help outside of class. She knows each student by name and does not hesitate to show support and consideration for each student. Her concern for each student was evident from day one, and her leadership inspires rather than intimidates."
Sellers' greatest joy comes from being a mom to two sons and two Labrador dogs.