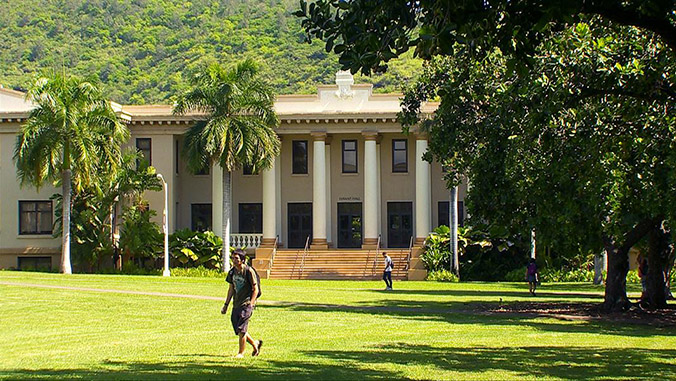 The University of Hawaiʻi at Mānoa received high marks in a new ranking by Quacquarelli Symonds (QS), the publisher of the QS World University Rankings, one of the most popular university rankings in the world.
In May, QS released its inaugural list of the top U.S. universities with an additional focus on diversity, internationalization and employability.
UH Mānoa ranked No. 66 out of the top 300 U.S. universities. UH Mānoa ranked higher than the University of Arizona and Howard University (tied for No. 68), University of Oregon (tied for No. 94), Oregon State University (No. 101–110) and Loyola Marymount University (No. 111–120). UH Hilo also earned a spot on the list at No. 181–190.
"I think for a lot of people it is difficult to put into perspective how impressive it is to see UH Mānoa's ranking," UH Mānoa Provost Michael Bruno said. "You have to remember there are states such as California and New York that have more than 200 universities and colleges each. There are more than 5,000 nationwide. We have a quality of expertise and teaching that puts us rightfully along other top institutions of higher education."
Methodology
The four main categories are: diversity and internationalization, employability, research and learning experience. The diversity and internationalization category focuses on the percentage of undergraduate students receiving Federal Pell Grants, the graduation rates of Federal Pell Grant recipients, the percentage of international students, gender diversity, alumni outcomes and the number of Fulbright students studying abroad.
Employability is measured from a combination of datasets, including alumni outcomes and employer reputation. Research is measured by an institution's academic reputation, citations and research network.
Learning experience is calculated by the overall learning environment provided by a higher education institution to its students as demonstrated through its retention rate, instructional spending and graduation rates of students with and without federal financial support.
Based in the United Kingdom, QS said the new ranking is designed to assess how well universities are responding to the social, intellectual and economic challenges of our time. The methodology also evaluates universities based on how they support the 17 United Nations sustainable development goals.
Other rankings
UH Mānoa also received these prominent rankings:
For more information, see the Mānoa Institutional Research Office website.
—By Marc Arakaki