First Hawaiian Bank and the Hawaiʻi Community Foundation (HCF) have contributed $1 million each for a total of $2 million to a scholarship fund to support the high school class of 2020, whose school year and critical planning months were cut short due to COVID-19.
The Stronger Together Hawaiʻi Scholarship Fund will benefit 2020 Hawaiʻi public school graduates participating in the Next Steps to Your Future program of the University of Hawaiʻi and Hawaiʻi P-20. The program provides advisor support and free UH Community College career exploration courses to help graduating seniors transition to post-high school education or job training.
"We cannot thank First Hawaiian Bank and the Hawaiʻi Community Foundation enough for their support of the class of 2020," said UH President David Lassner. "Their generosity will help students and their families in this time of unprecedented crisis by enabling the gift of post-secondary education and their better future, which represents an investment in a better future for all of Hawaiʻi."
HCF will award the scholarships on a case-by-case basis, and funding can cover traditional educational expenses, such as tuition and books, or other emergency expenses. HCF will make online applications available in July, and updates will be posted on the HCF and UH Next Steps website.
First Hawaiian Bank and HCF provided the seed funding for the Stronger Together Hawaiʻi Scholarship Fund, which they hope other donors will contribute to, enabling the fund to help a greater number of students affected by COVID-19 this year and students who are in need in future years. Donations to the Stronger Together Hawaiʻi Scholarship Fund can be made to HCF online.
Next steps to future success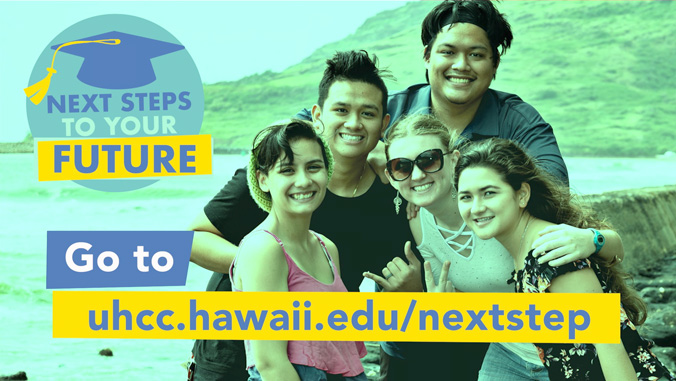 The Next Step college classes are provided on a first come, first serve basis, and students can identify and develop their next steps toward their career goals, whether to enroll in college, seek employment or both. Students will begin to earn college credits, explore career options and discover the education and training available at UH to help them reach their goals.
All public high school graduates are encouraged to sign up for classes via the Next Step: Career Exploration website, email or text nextstep@hawaii.edu. The first class begins on May 26, and the sign-up deadline is May 28 for the next class which begins on June 8.
"We recognize that each senior has their own story and their own needs," said Bob Harrison, chairman, president and CEO of First Hawaiian Bank. "The Stronger Together Hawaiʻi Scholarship fund is designed to remove as many barriers as possible for this year's high school graduates by offering flexible funding, and a range of continuing education options to encourage students to pursue their dreams–and be supported in the process."
Graduating public school seniors who are from low to middle income families will receive priority, and neighbor island graduates are encouraged to apply.
"The Stronger Together Hawaiʻi Scholarship Fund will allow graduates to pursue the path that is right for them–whether that is job training or a four-year degree," said Micah Kāne, president and CEO of Hawaiʻi Community Foundation. "We believe supporting these students goes beyond investing in their individual futures. Their success is Hawaiʻi's success and we are committed to doing all that we can to help them."