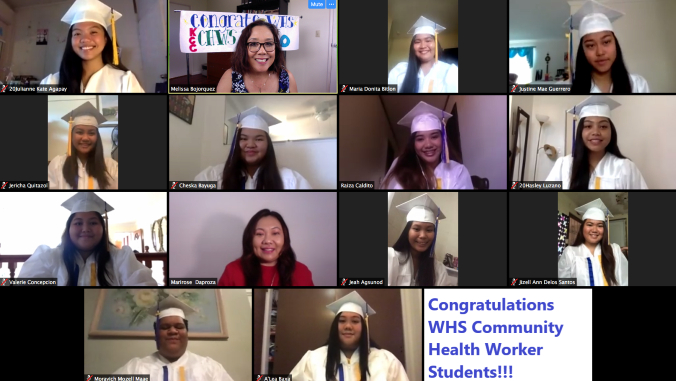 A pilot group of 12 high school seniors enrolled in Kapiʻolani Community College's Community Health Worker (CHW) program had a combination last day of class and completion celebration on May 13, 2020. The students are all from Waipahu High School (WHS) and their special recognition was delivered virtually, with accolades from administrators and the Hawaiʻi lieutenant governor.
The Kapiʻolani CHW program is a 16-credit program that leads to a University of Hawaiʻi certificate of competence upon completion. The program is composed of five sequential courses, culminating in a hands-on practicum course carried out in the community. This year's cohort of students completed the first two classes at WHS and will complete the program at Kapiʻolani CC this fall.
"It is especially important, now more than ever, to have community health workers assisting people in our communities who need basic health screening, counseling and resources, but may not know where to go for additional care and information," said Kapiʻolani CC Chancellor Louise Pagotto. "The students are to be commended for taking the first steps into a career that fills a vital role in our society. We welcome them all to continue their career paths at Kapiʻolani Community College."
Melissa Bojorquez taught two Kapiʻolani CC CHW sequential courses with assistance from Marirose Deproza, a teacher at WHS. In mid-March, when UH mandated that all teaching move to distance delivery, Bojorquez, Deproza and their 12 students adjusted and transitioned to Zoom overnight for the rest of the semester.
Waipahu High School's innovation
WHS Principal Keith Hayashi and Assistant Principal Eunice Fukunaga, approached Kapiʻolani CC about offering the first two courses of the CHW program on the WHS campus for seniors interested in healthcare and social services. The college was awarded a Hawaiʻi Healthcare Workforce Advisory Board grant to fund the WHS pilot program.
"The goal for these initial 12 students in our English Learner program is to leverage their multilingual skills in reaching out into their respective communities to address pressing health issues," Hayashi said. "Amidst this unprecedented time related to COVID-19, they have discussed authentic examples in current context, through a relevant and rigorous curriculum. Nine of the 12 students have already registered for Kapiʻolani CC in the fall. Congratulations to these pioneers in academy inspired healthcare."
A seamless healthcare pathway
The pilot program called for automatic admission into the final three courses at Kapiʻolani CC, creating a seamless pathway for the students. Future plans call for the first four of the five classes to be delivered at WHS beginning this fall, with the final course completed at Kapiʻolani CC in summer 2021.
From the outset, Lt. Gov. Josh Green and Pagotto were champions who supported the program and who saw its value for Hawaiʻi before COVID-19. It is no surprise, therefore, that both delivered laudatory messages to the students commenting on their commitment to much needed healthcare in the community and the state. Kapiʻolani CC's Sally Pestana, director of health education non-credit programs and health sciences instructor Amanda Allison were also instrumental in coordinating the partnership.