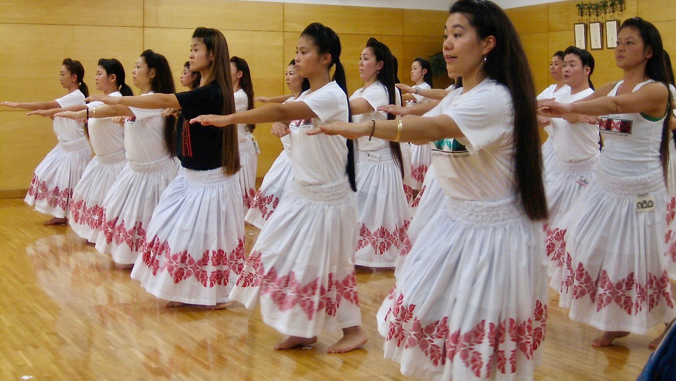 Lisette Marie Flanary's documentary could be headed for the Oscars. But, the University of Hawaiʻi at Mānoa Academy for Creative Media (ACM) associate professor is taking it one step at a time.
Flanary's Tokyo Hula follows the daily lives of hula teachers and students in Japan as they overcome struggles and challenges of practicing a cultural art form in a foreign country.
It was selected from thousands of films to be showcased at three festivals this summer, including an Oscar-qualifying film festival in New Zealand. Due to the COVID-19 pandemic, instead of an in-person event, the Doc Edge Film Festival will be showcased online from June 5–July 12. Tickets will be available for purchase by viewers only in New Zealand. The Academy for Motion Picture Arts and Sciences will then select the Oscar nominees from a list of winners from qualifying festivals around the world, including Doc Edge.
"I'm just really happy to be screening my film in such a prestigious festival and honestly, I am not hoping to win an award or be shortlisted for the Oscars but am much more excited to be able to screen the film with audiences in Aotearoa," Flanary said.
The film will also be featured virtually at the Tokyo Lift-Off Film Festival in June and a tentatively scheduled in-person Made In Hawaiʻi Film Festival on Hawaiʻi Island in July where the film is nominated for best feature film with winners selected by the Hawaiʻi Film Critics Society.
Tokyo Hula is the third film in a trilogy of documentaries detailing how hula traditions have evolved. Flanary, a lifelong hula dancer, said while producing the film, she was surprised at how many people were practicing hula in Japan.
"When I first started filming in Tokyo, there were estimates of 400,000–500,000 people dancing hula in Japan," Flanary said. "Today, there are between 1–2 million people dancing hula in Japan and the numbers and interest only seems to continue to grow."
"As a filmmaker, one of the most interesting things that I shot was a woman who teaches workshops on how to do exercises to work on perfecting a great smile for dancing hula. I had never really thought about what goes into a smile before in such detail but it was fascinating to find that one of the cultural challenges for Japanese hula students is working on a natural smile that is not necessarily something that is very common in everyday life in Japan."
Previous accolades
Flanary had a whirlwind 2019 and early 2020. Tokyo Hula was selected for the Yamagata International Documentary Film Festival in October 2019. However, due to Typhoon Hagibis, all flights were canceled and Flanary conducted Q and A sessions virtually.
Then, the film was featured in the Hawaiʻi International Film Festival in November 2019 and the Festival of International Documentary Films from Oceania (FIFO) in Tahiti in February 2020. However, due to COVID-19, Flanary never imagined her trip to FIFO was going to be her last in-person screening on the documentary for a while.
"Once we all were given stay at home orders and the world began experiencing lockdowns, all film festivals that the film had been accepted into were postponed—or in some cases canceled," Flanary said. "It was really heartbreaking but I am still hopeful that there will be opportunities and new ways to share the film with people."
ACM Mānoa Chair Christine Acham said "The ACM faculty and staff were there to see Tokyo Hula premiere at the Hawaiʻi International Film Festival at two sold out screenings. Therefore, we were very excited, but not surprised to learn of Professor Flanary's acceptance into the Doc Edge, Made in Hawaiʻi and Tokyo Lift-Off Film Festivals. Lisette has put in tremendous effort to see her project to fruition and it is wonderful that festivals worldwide are acknowledging her talent. Lisette's accomplishments are a great reflection on ACM; she is an inspiration to her students."
—By Marc Arakaki