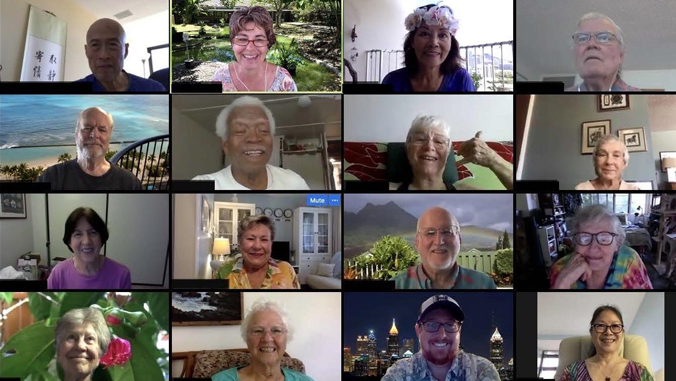 Starting this summer, adults ages 50 and older can gain online access to a popular University of Hawaiʻi at Mānoa non-credit program that is proud of its reputation for expanding minds and horizons.
The Osher Lifelong Learning Institute (OLLI) has recently expanded its offerings to more than 40 non-credit, college-level courses, workshops, lectures and other learning activities statewide, as well as the continental U.S. and Canada, via internet-based Zoom sessions.
Housed in the College of Social Sciences at UH Mānoa and administered through UH Foundation, OLLI is a member-based community that encourages lifelong learning to engage minds, enrich lives and serve the community.
Topics of courses and workshops range from gardening and films/art, to cultures/history and meditation. Special events include Lunchtime TED Talks and 14 discussion groups on books, movies, politics and more.
Online expansion
OLLI Director Carole Mandryk said the new emphasis on "digital adventures" was embraced by most OLLI members and instructors, who appreciated the convenient online sessions when stay-at-home orders were issued in the spring.
"I think COVID-19 accelerated the conversion, although there were participants who preferred resuming in-person classes in Krauss Hall. But we worked hard to provide opportunities to keep learning in a socially connected way, the OLLI way, by sharing our knowledge, experience and stories while helping each other adjust to the new technology," said Mandryk.
"One of the things we learned was that members and instructors can be anywhere, as long as they have a computer device and internet access," said Mandryk. "We now have former instructors teaching from New England, California and Kona, and a handful of snowbird members enrolled from across the U.S. and Canada."
Summer OLLI classes began in June; most ongoing classes can be joined at any point.
The usual $60 per term membership fee has been discounted to a special summer introductory rate of $45 for new members.
View the summer 2020 catalog and register.
View a video of instructors describing their courses at OLLI's first ever Zoom open house.
More on OLLI
OLLI's island roots date back to 1996, when a group of community elders, retired professors and UH Mānoa administrators established the Academy for Lifelong Learning. Its mission was to strengthen connections between the university and community, and promote lifelong learning, leadership and community service for older learners.
In spring 2003 came a name change to OLLI-UHM, after receiving the first of several gifts from philanthropist Bernard Osher and his self-named foundation, which supports a national lifelong learning network for "seasoned" adults.
Visit this website to support the program.
—By Lisa Shirota