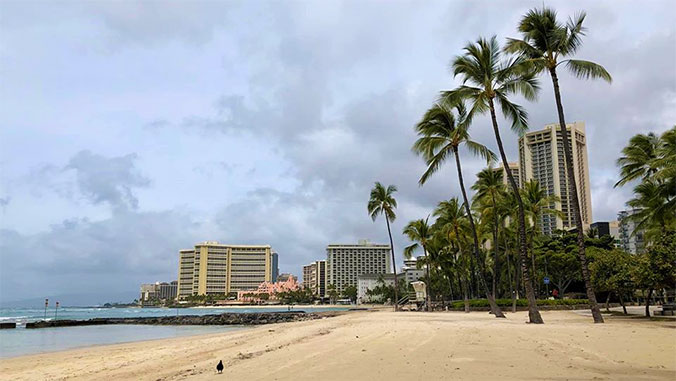 A new University of Hawaiʻi Economic Research Organization (UHERO) report provides a plan to limit the reintroduction of COVID-19 from travelers entering Hawaiʻi.
Sumner La Croix, UHERO research fellow and UH Mānoa professor emeritus of economics in the College of Social Sciences; F. DeWolfe Miller, John A. Burns School of Medicine professor emeritus; and Tim Brown, East-West Center senior fellow recommend that individuals who clear a temperature and symptom screening, and a COVID-19 test in their departure city will not be required to quarantine for 14 days upon arrival to Hawaiʻi.
The documentation should be completed using a mobile app, and kept confidential to the passenger, their ticketed airline, home state, Hawaiʻi public health officials and, if requested, their private physician. Anyone arriving without clearance documentation will be required to quarantine for 14 days.
Implementing temperature and symptom screening in their departure cities is expected to remove one-third of infectious passengers to Hawaiʻi and COVID-19 tests conducted in their departure cities are expected to remove up to 90 percent of infectious passengers.