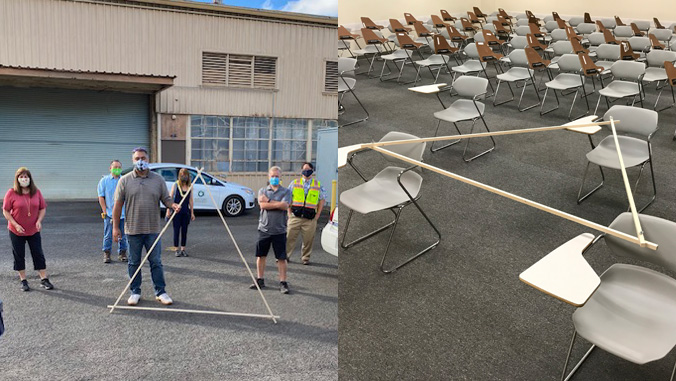 The University of Hawaiʻi at Mānoa has publicly posted the first set of guidelines for the reopening of the Mānoa campus for the fall semester after the abrupt closure during the spring semester because of the COVID-19 pandemic. The guidelines are specifically for buildings and facilities and were developed by the Space Planning, Preparation and Utilization Committee, one of eight working groups tasked with making the return to in-person instruction at the Mānoa campus as smooth as possible while maintaining the health and safety of students, faculty, staff and visitors.
"This is a monumental task as every aspect of campus operations has to be evaluated and planned for but itʻs important to provide as much information as possible along the way," said UH Mānoa Provost Michael Bruno. "We want our students, faculty, staff, incoming students and their families to have an idea of how we are approaching this unprecedented situation."
The guidelines posted June 8 on the Space Planning, Preparation and Utilization webpage are based on Centers for Disease Control guidance and input from the UH Mānoa COVID Health Committee. It is designed for the most common space types, classrooms and offices, and covers:
Positioning of furniture and cleaning of offices and classrooms of various sizes
Adjustments to entry and exit points, and flow of movement, within buildings
Campus signage regarding guidance to stay healthy
The committee plans to work closely with other working teams to address specialized spaces, such as laboratories, food services, housing etc.
The planning process began in May and is guided by the latest information from Federal, State and industry resources. For more on the groups working on the UH Mānoa fall 2020 semester, see the Moving Forward website.