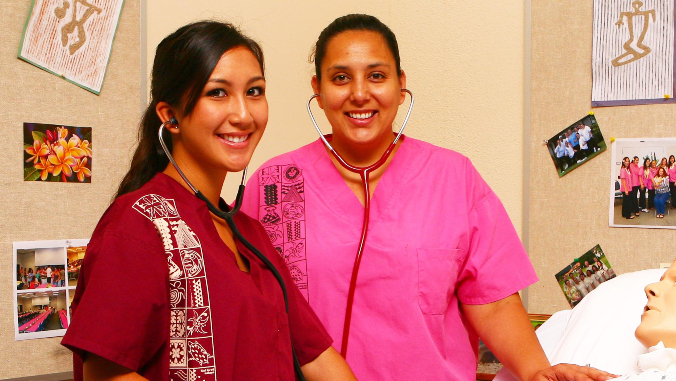 Nurse aides are urgently needed right now, and Windward Community College is ready to educate, train and launch careers with a groundbreaking Certified Nurseʻs Aide (CNA) online program allowing students to train to be certified in just a few months. The seven-credit, three-class online program starts on July 6, and students can finish by this December.
Windward's CNA program is unique, as it combines Western healthcare career training with traditional native Hawaiian healing practices such as lāʻau lapaʻau (plant-based medicines), lomilomi (massage) for kupuna (elders) and the medically fragile, growing healthy foods in the Māla ʻAi Hoʻola nursing garden and hoʻoponopono (conflict resolution).
Students are prepared with the knowledge and experience needed to provide quality care for residents and kupuna in long-term care facilities, hospitals, home health care and hospice settings.
Jamie Kamailani Boyd, director of the Windward CC Indigenous Health Science program, created the online CNA credit program based on more than 12 years of success with students in the CNA noncredit program. The program is also designed to provide a pathway to the bachelor of applied science (BAS) degree in Hawaiian and indigenous health and healing at the University of Hawaiʻi–West Oʻahu.
"I'm passionate about preparing a highly trained workforce to care for the kupuna of Hawaiʻi. In managing health science training as a pathway out of poverty, I am continuously pursuing support for our CNA so they may earn higher certifications, degrees and licensure toward a living wage in Hawaiʻi," said Boyd.
Funding for the transition to an online from a traditional face-to-face format—preserving the unique cultural focus of the program—was provided by Windward CC's Kahua Hoʻonaʻauao: Foundations of Knowledge Building, U.S. Department of Education Title III grant project.
Program graduates are well prepared to meet the requirements for the state certification exam and to be successfully employed, or they can pursue a higher degree such as LPN, RN or BAS for health careers in public health, social work and traditional healing.
Students who wish to advance their education have options. Completion of the CNA program is the first step in the nursing career pathway. Students who enroll in the CNA apprenticeship program and complete the CNA training may qualify for financial assistance and additional earned credits from UH West Oʻahu toward a BAS degree.
Boyd said "whether you're just starting your career or ready for a change, now more than ever is the time to consider becoming a nurse aide … to make a difference in the lives of those who need it most."
For more information on how to enroll, email wccCNA@hawaii.edu.