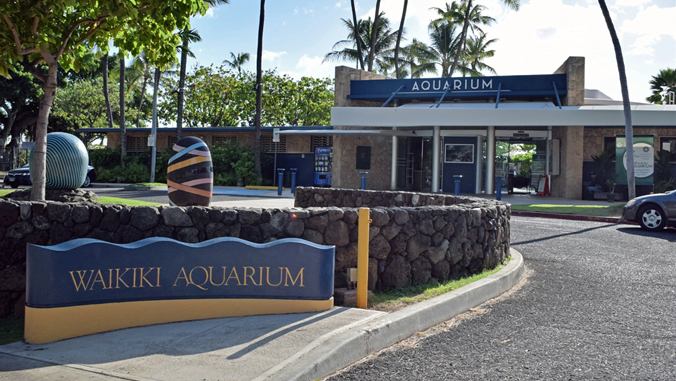 In response to the latest state and city COVID-19 guidelines, the Waikīkī Aquarium will reopen its doors to the public on Monday, June 29. The week prior to the public reopening, the aquarium will be open at no charge to healthcare workers and their immediate family members only from June 22 to 28. Accompanying the reopening will be a variety of new health and safety restrictions, including pre-paid admissions tickets purchased exclusively online, required wearing of face masks, installation of clear acrylic barriers at the front desk and gift shop, and required social distancing.
Healthcare workers and their immediate family members who are welcome to the Waikīkī Aquarium during the June 22 through 28 soft opening include EMTs, nurses and medical professionals working in hospitals around Hawaiʻi. Entry is free of charge, though reservations must be made online, families must visit together, and frontline workers must show their hospital-related identification upon entry.
"As always, the health, safety and well-being of our guests, staff, volunteers and living collection remains our top priority as we transition to this reopening phase," said Andrew Rossiter, director of the Waikīkī Aquarium. "By implementing a variety of safety precautions and initiatives, we're confident that we can welcome the community to once again explore the majestic wonders at the aquarium in a safe and enjoyable way."
The following new restrictions and safety protocols are currently in place for anyone visiting the Waikīkī Aquarium:
When visiting the facility, face masks must be worn at all times by all visitors over the age of two. For guests who do not have face masks, face masks may be purchased at the Aquarium Gift Shop.
Hand sanitizer stations are positioned throughout the facility.
Custodial staff wipe down and sanitize high-touch areas several times throughout the day.
Guests are required to adhere to signage requiring a six-foot distance between individual visitors or different groups.
Touch screens, informational kiosks and other high-touch technologies will be decommissioned until further notice.
Clear acrylic barriers are now in place at the front desk and gift shop to minimize the potential spread of COVID-19 among guests, staff and volunteers.
The aquarium has also implemented new protocols for admissions. Until further notice, tickets may only be purchased online and in advance, with a maximum of 50 guests allowed at the aquarium.
For more information, call (808) 923-9741 or visit its website.