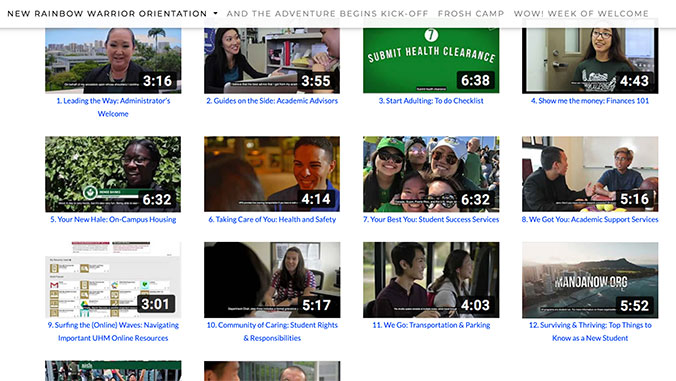 Every semester the University of Hawaiʻi at Mānoa eagerly welcomes new students—first year, transfer and graduate—to the campus community, and this fall teams will make that happen, albeit in a different capacity. Given the current COVID-19 situation, the university is shifting to a virtual experience to welcome and prepare new students for the fall 2020 semester.
The New Rainbow Warrior Orientation gives an overview of the UH Mānoa experience, as well as the necessary resources for incoming students and their families to be successful. The virtual orientation will include opportunities for engagement over the course of five weeks, July 20–August 21. The orientation includes a series of engrossing webinars and presentations, live Q&A sessions, "drop-in" hours via Star Balance and innovative social experiences to build community and belonging.
Each week is dedicated to a specific category:
Week 1 – Welcome/Campus Spirit
Week 2 – Academic Success
Week 3 – Student Services
Week 4 – Campus Engagement and Life
Week 5 – Week of Welcome (WoW) and College/Department Open Houses
Registration for the virtual orientation is now open. In the meantime, to stay up-to-date on orientation events, new students and their families are encouraged to check their email regularly, visit the website or follow New Rainbow Orientation on Instagram @uhm_nrwo.
"While there may be some uncertainty about Fall, one constant is our desire and commitment to welcoming all new students and their families. We are incredibly excited about the program our orientation team has developed and know all new students will feel prepared, connected, and ready for the first day of school," said Interim Vice Chancellor for Students Lori Ideta.