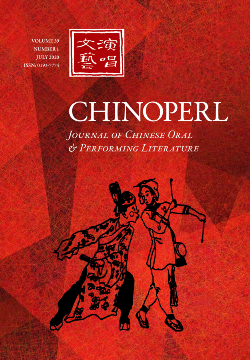 The University of Hawaiʻi Press has partnered with the Permanent Conference on Chinese Oral and Performing Literature for the continued publication of CHINOPERL: Journal of Chinese Oral & Performing Literature, starting with the summer 2020 issue.
CHINOPERL is an interdisciplinary journal that has been published since 1969 and is the only Western-language journal in its field. The journal focuses on literature connected to oral performance, either on stage or in everyday communication, ranging from proverbs to poetry and folk songs to hip-hop.
The upcoming special issue covers regional language and performance texts in the Qing (a literary index of works from the Qing Dynasty), co-edited by Margaret B. Wan and Catherine Swatek. The issue grew out of a panel at the Association of Asian Studies meeting in 2017 and will feature a newly designed cover.
"We are excited to work with the University of Hawaiʻi Press, which has a well-deserved reputation for excellence," said Wan. "CHINOPERL welcomes diverse contributions to Chinese performance studies. Recent issues have explored Chinese performance in diaspora, the intersection of social and cultural history, and new approaches from media studies, gender studies, religious studies and digital humanities."
CHINOPERL joins other Asian studies journals published by UH Press, including Azalea, Asian Theatre Journal and China Review International.
Submission and subscription information for CHINOPERL can be found online at the UH Press website.