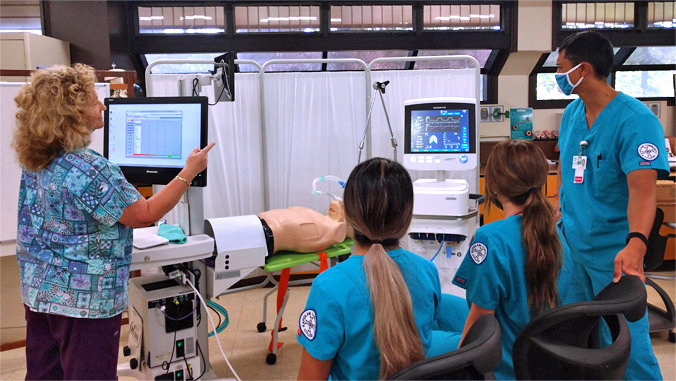 Kapiʻolani Community College's Respiratory Care Program will receive the Distinguished Registered Respiratory Therapist (RRT) Credentialing Success Award from the Commission on Accreditation for Respiratory Care (CoARC) for the eighth consecutive year. This award uses a professional standard to measure the program's effectiveness by inspiring its graduates to strive for their highest achievements.
According to Respiratory Care Program Director Robert Vega, 100 percent of Kapiʻolani CC's graduates have been certified and registered as RRTs since 2008.
"I congratulate Dr. Vega and the Respiratory Care Program faculty. To earn this award, the program had to meet specific criteria to include credentialing exam success. The national average pass rate for the certified respiratory therapist exam is 93 percent. Kapiʻolani Community College's Respiratory Care Program continues to attain 100 percent exam pass rates year after year. This award acknowledges dedication and success in excellence in educating future respiratory therapists," said Lisa Radak, Kapiʻolani CC dean of health academy programs.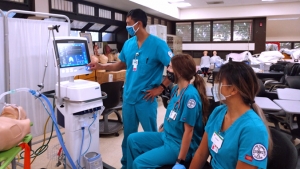 In determining the award, CoARC used objective criteria based on key accreditation metrics documented in the 2019 Annual Report of Current Status. Competing programs were required to:
have three or more years of outcomes data;
hold accreditation without a progress report;
document RRT credentialing success of 90 percent above, and;
meet or exceed established CoARC thresholds for certified respiratory therapist credentialing success and retention.
There are approximately 450 respiratory programs throughout the U.S., and CoARC began its distinguished awards program 9 years ago. Kapiʻolani CC has received this award for 8 of the 9 years, putting it in the top 3 percent of competing programs nationwide.