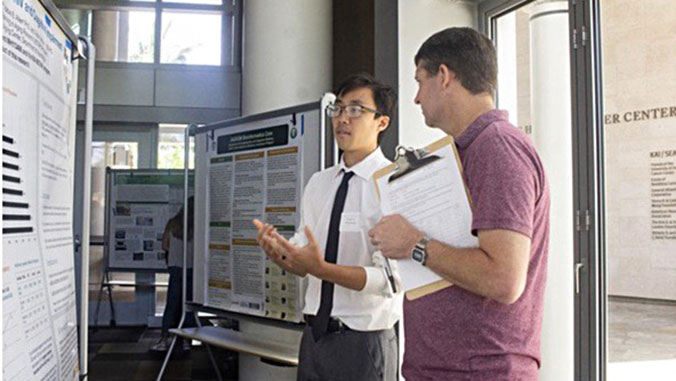 Fourth-year medical student Kalei Hosaka of the University of Hawaiʻi at Mānoa John A. Burns School of Medicine (JABSOM) is a recipient of the 2020 Excellence in Public Health Award from the U.S. Public Health Service (USPHS) Physician Professional Advisory Committee.
The award recognizes medical students across the nation who advance public health in their communities and exemplify the USPHS mission to protect, promote and advance health and safety.
Hosaka, who grew up in Hawaiʻi and graduated from Hawaii Baptist Academy, credits the concern he has for underserved populations to his family's Christian faith and challenging childhood experiences of bullying. He says he is keenly aware of the disparities and the commonalities he shares with others.
Hosaka was an intern with Shalom [AIDS] Delhi as part of Wheaton's Human Needs and Global Resources program. "For six months, I worked in a community health clinic that serves neglected HIV patients from the Delhi slums," he said. "As a result, the HIV community became important to me. When I began medical school, I made efforts to work on important HIV research and public health topics with the Hawaiʻi Center for AIDS."
In recent years, he has been involved in promoting indigenous and migrant health. Hosaka praised his mentors and JABSOM faculty members for encouraging him to pursue research and public health.
"I do not think I know of a medical student who has contributed so much to clinical medicine and public health," said Paul Kitsutani, captain of the USPHS Physicians Professional Advisory Committee. "This award emphasizes program implementation, research, community service, impact and a commitment to public health. As a JABSOM graduate, I couldn't be more impressed or proud of Kalei."
In January 2021, pushed back from July 2020 due to COVID-19, Hosaka will begin a year of research funded by the National Institutes of Health Fogarty Program in Tanzania. His focus is youth with HIV, their mental health and antiretroviral therapy resistance patterns. Hosaka's wife, Leah, a UH Mānoa graduate nursing program alumna, will also join him.
"For me, solidarity is the driving principle for the kind of work I involve myself in and the kind of physician I aspire to be, following JABSOM's model of obtaining optimal health for all. It's why I went into medicine," Hosaka said. "I believe that being a physician is my calling and my vocation, just as my interests in public health, research and writing."
Elisabeth Young (JABSOM 2019) and Brandyn Dunn (JABSOM 2016) are the only other JABSOM students who have earned the USPHS recognition.