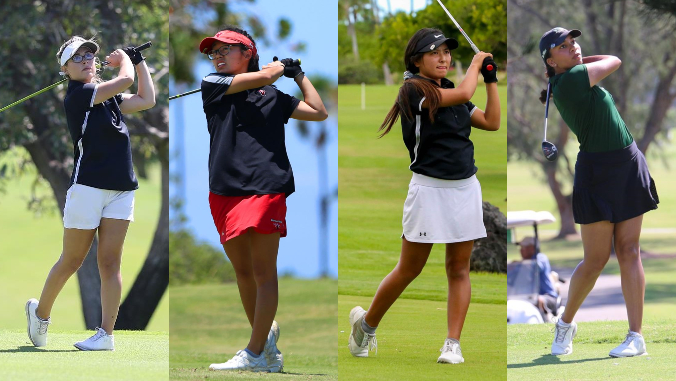 Two University of Hawaiʻi at Mānoa Rainbow Wahine and two University of Hawaiʻi at Hilo Vulcan women's golfers were recognized on June 29 for their academic excellence by the Women's Golf Coaches Association (WGCA).
Senior Malia Ebersberger (UH Mānoa), senior Keely Kitamura (UH Hilo), sophomore Kaelyn Uchida (UH Hilo) and junior Sahara Washington (UH Mānoa), were among 1,401 women's collegiate golfers named to the All-American Scholar team, which requires selections to maintain a minimum cumulative GPA of 3.5.
Rainbow Wahine golfers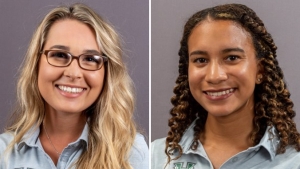 Ebersberger earned the distinction for the second consecutive year. Last season, Ebersberger and freshman Nicha Vorrasanpisut were the first to earn WGCA honors since Nichole Cruz in 2016.
Washington competed in all seven tournaments of the season and finished second on the team with a 76.1 scoring average with two Top 20 finishes.
For more details, visit the UH Mānoa Athletics website.
Vulcan golfers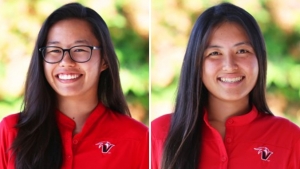 Kitamura played in three tournaments as a senior, earning her best round of 85 at the Concordia Invitational. She is also a four-time Pacific West Conference Scholar Athlete.
Uchida achieved a record-breaking round during the Dennis Rose Intercollegiate, scoring the lowest UH Hilo women's golf score of 70 on the par-70 course.