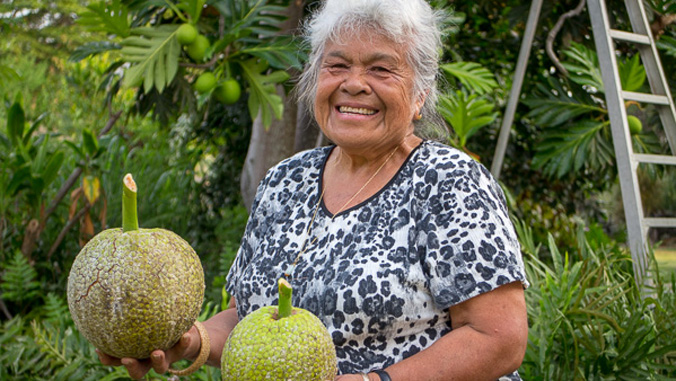 A new initiative aimed to bolster Hawaiʻi's economy and all regional island tourist destinations, by growing local breadfruit and developing waste conversion industries, has been launched by the University of Hawaiʻi Pacific Business Center Program (PBCP).
The Ama (outrigger) Initiative encompasses two of the PBCP's award-winning projects: The Pacific Regional Breadfruit Initiative and the Hauʻula Resilience Model Village, featuring the Thermal Conversion of Organic Material (TCOM) waste management technology. Both are part of the center's Multi-Purpose Business Incubator project, a partnership between PBCP and private industry to create synergies for problem solving or as catalytic tools for economic development to address state, regional and global challenges.
"We are choosing to turn into the wind towards the teeth of the impending economic disaster with PBCP's novel solutions, rather than jockeying at the funding trough where I understand a feeding frenzy of competition is taking place," said PBCP Director Failautusi Avegalio.
Pacific Regional Breadfruit Initiative
The Pacific Regional Breadfruit Initiative is leading the way towards new opportunities to support Hawaiʻi as a global leader in the processing and manufacturing of breadfruit products and byproducts. According to Avegalio, breadfruit is a leader among plant protein-based sources, and is also gluten-free with projections for that market estimated to reach $43.65 billion by 2027. The plant's leaves and flower heads are also a source for squalene, an organic compound with medical and cosmetic uses that has previously been obtained from shark liver. Avegalio said one possible use may be for the insect pest control market, which is projected to hit $17.6 billion by 2023.
Oceania has the highest density of breadfruit trees in the world with more than two million standing trees that can produce 1.4 billion pounds of breadfruit annually. The minimum annual harvest per mature tree is 700 pounds. PBCP, in collaboration with the Pacific Islanders Farmer Organisations network, with 80,000 farmer members, is working to establish an Oceania-to-Honolulu supply link for dried breadfruit to Hawaiʻi.
Thermal Conversion of Organic Material (TCOM)
The TCOM technology is designed to reduce and convert organic waste into value added products, including activated carbon. Landfills for trash and waste inundation are a constant threat in Hawaiʻi, in particular, and islands, globally. A single TCOM unit can convert 1 ton of waste into 650 pounds of solid carbon per hour. Avegalio said solid carbon as a soil amendment is two-times more potent than the leading commercial fertilizer. This is a compelling factor in successful agriculture development. Heat generated by the TCOM system will support an attachment dehydrator deployed to the region's farmers for drying breadfruit and ancillary agricultural products for shipping to Hawaiʻi as the manufacturing center for national and global markets. TCOM parts are currently being manufactured, with the first shipments, assemblies and deployments targeted for August 2020, in Hawaiʻi.