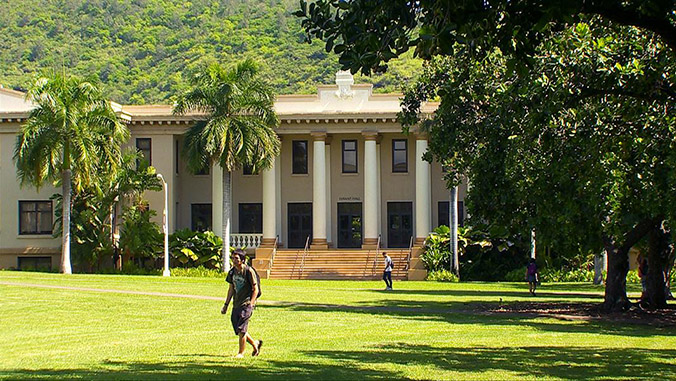 Editor's note: On July 14, 2020, the U.S. Dept. of Homeland Security rescinded its policy that would bar international students who only take online courses from staying in the U.S. The policy regarding online coursework returns to the federal guidance published for spring and summer, which allows continuing international students to remain in the U.S. while taking all online classes, regardless of what format their school uses for course delivery.
The following message was shared with international students at the University of Hawaiʻi at Mānoa on July 7, 2020.
On July 6, 2020, the U.S. Department of Homeland Security's Student And Exchange Visitor Program (SEVP) announced new, temporary exemptions to the normal online study limits of F-1 (full time international) students for the fall 2020 semester due to the COVID-19 pandemic. In the guidance, SEVP outlines the possibility for exemptions based on one of three course delivery formats chosen by the school: (1) entirely online classes, (2) normal in-person classes, and (3) a hybrid model—mixture of online and in-person classes.
The University of Hawaiʻi at Mānoa has opted for the hybrid model in the fall 2020 semester, and so its F-1 students will be permitted to take more than one class (or three credit hours) online, with certification from the school. In other words, students may take more online credit hours than the standard online study limit if required, but they cannot have their entire course load online. At least one course has to be hybrid and/or in-person.
The full-time enrollment requirement has not changed. (NOTE: "Online" refers to classes that do not require any physical attendance. UH Mānoa classes designated as "hybrid" are not considered online classes for the purpose of this guidance.)
To qualify for the exemption, UH Mānoa must report to SEVP its delivery format by August 1. The school must also certify to SEVP by August 4 that for each F-1 student:
The school is not operating entirely online
The student is not taking an entirely online course load for the fall 2020 semester, and
The student is taking no more than the minimum number of online classes required to make normal progress in their degree program
International Student Services (ISS) will be re-issuing I-20s with this certification to all F-1 students throughout July, starting with new students and continuing students who are outside the U.S.
Under these federal guidelines, any international student who has enrolled entirely online for the fall, or is planning to do so, cannot hold F-1 status. Such students outside the U.S. may not enter the country, and those already in the U.S. are required to leave promptly. If the courses chosen include a mix of online and in person courses and these courses were to change to all online mid-semester, the same conditions would apply—the student would lose F-1 status.
We are asking all academic programs to work with their international students to ensure that their enrollment in courses is in compliance with this latest SEVP guidance. If students are unable to enroll in the appropriate courses to meet the above certification, they should report to ISS for further guidance: issmanoa@hawaii.edu.
We understand that as of this date, visa services remain suspended worldwide. U.S. entry bans for certain countries remain in place, and Hawaiʻi's 14-day quarantine continues through July.
There are many more questions to be answered, and ISS will be preparing an FAQ that will be ready by Friday, July 10.
Read the full SEVP COVID-19 and Fall 2020 guidance (PDF).
Stay safe and well,

International Student Services