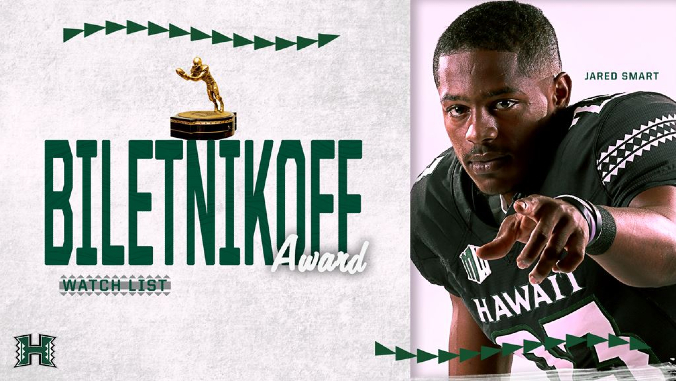 A University of Hawaiʻi at Mānoa football player was recently named to a watch list of 55 preseason candidates for the national Biletnikoff Award which annually recognizes college football's most outstanding receiver. The award is sponsored by the Tallahassee Quarterback Club Foundation.
Wide receiver Jared Smart was one of just four players on the roster to start every game and finished second on the team in receptions (87) and receiving yards (1,129) in 2019. He led the team with five 100-yard receiving games and ranked fifth in the Mountain West in both receptions and receiving yards per game. Smart was one of 16 players in program history to reach the 1,000-yard receiving mark in a season.
The semifinalists, finalists and award recipient are selected by the Biletnikoff Award National Selection Committee, a group of prominent college football journalists, commentators, announcers, Biletnikoff Award winners and other former receivers. The award will be presented at the Biletnikoff Award Banquet in March 2021.
The award is named after Fred Biletnikoff, a member of the pro and college football halls of fame, who was a consensus All-America receiver at Florida State University and an All-Pro receiver for the Oakland Raiders. Biletnikoff was the Most Valuable Player of Super Bowl XI.