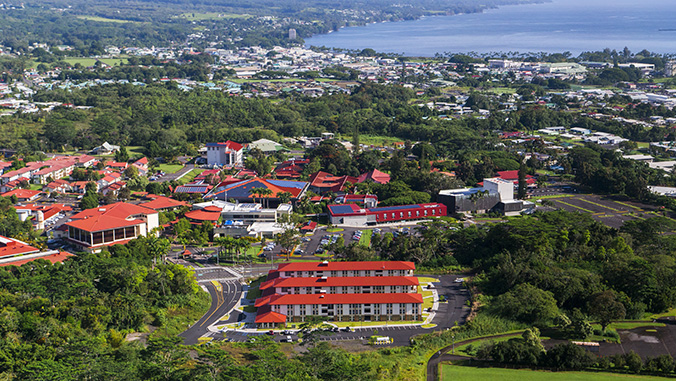 A new certificate program in Indigenous public health will launch this fall at the University of Hawaiʻi at Hilo. Development of the program was facilitated by UH Hilo Kīpuka Native Hawaiian Student Center, with collaboration among the Daniel K. Inouye College of Pharmacy, the Department of Sociology, and the Department of Kinesiology and Exercise Sciences (KES), where it will be housed. It is an interdisciplinary certificate that includes courses provided by Ka Haka ʻUla O Keʻelikōlani College of Hawaiian Language and the departments of psychology, anthropology, sociology, and KES.
"The Indigenous public health certificate will provide students with an understanding of the purpose and practice of public health, Indigenous communities' practices of health and well-being, and/or conventional and traditional health perspectives," explained Misty Pacheco, KES chair and associate professor. "Students will become familiar with public health principles and gain an appreciation of Indigenous health concerns, including Native Hawaiians, Pacific Islanders, as well as other groups."
Students in the program will also learn about the purpose and practice of public health, compare conventional and traditional health perspectives, and understand indigenous health concerns and disparities.
"We have also seen the disproportionate effect COVID-19 has had on indigenous populations around the world, and are once again reminded that we must consider the specific needs and priorities of indigenous communities," Pacheco said. "One thing that is glaringly clear, and which practically everyone can universally agree upon, is the importance of public health. The critical need for a strong public health infrastructure across all systems, as well as a trained public health workforce has been reinforced."
Pacheco credits staff at the Kīpuka Native Hawaiian Student Center and KESfaculty for recognizing the need for the program long before the pandemic.
For more go to UH Hilo Stories.
—By Susan Enright