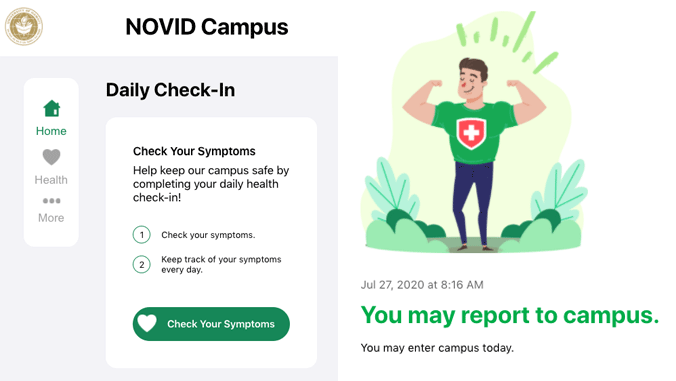 This message was shared with the students, faculty, and staff of the 10-campus University of Hawaiʻi system on July 27, 2020.
Aloha UH community,
I hope this message finds you safe and well as we prepare for the fall semester. An integral part of our COVID-19 preparations for the fall is the use of a check-in app to help everyone in our community monitor their individual health status daily. We have been diligently working since March to finalize the app, with a planned roll out in early to mid August. Please stay tuned for updates including when and how to sign up.
Your patience is greatly appreciated. Many of you have expressed concerns about privacy and how the data will be used along with questions on how the app will actually work. Please know that our top priority in working on this project is making sure that everyoneʻs personal information is protected and that all privacy laws are followed, including the Health Insurance Portability and Accountability Act (HIPAA) and the Family Educational Rights and Privacy Act (FERPA).
The data collected will only be accessible to a very limited number of key individuals in order to ensure and protect privacy. We will not ask for, nor store, information relating to specific symptoms, and will only ask whether an individual is symptom-free to "green-light" access to a UH location.
The app is currently undergoing testing to ensure that it is convenient to use, and compliant with Centers for Disease Control and Prevention and other governmental guidelines and policies, along with the universityʻs guidelines and plans to address the pandemic. Our recently issued Interim UH System COVID-19 Guidelines mandate a daily check in for all students and employees as one of the key components to our plans to help keep our communities safe. The app is not intended to provide any health care tips or medical advice.
The app is being developed by a team from DataHouse, an IT services company founded in 1975 and based here in Hawaiʻi. DataHouse is working with a team from UH ITS, to best support our needs, and to ensure that all data collected is securely maintained. The app will be available at the App Store (for Apple IOS devices) and the Google Play Store (for Android devices), as well as through a web form for those who prefer not to download the app to their device. Access to the app will require your UH login, including use of Multi-Factor Authentication (MFA) if enabled on your account. Individuals will be able to see their own check-in history at any time via the app or web form. Access to the accumulated check-in data will be limited to only designated COVID-19 response official(s) at each UH campus.
We are currently testing our UH customizations and making adjustments to accommodate use by our campus communities.
Again, thank you for your patience and please stand by as more information, including sign up instructions and instructions for use, will be released in the next few weeks.
Be well,
Garret Yoshimi
UH Vice President for Information Technology/Chief Information Officer