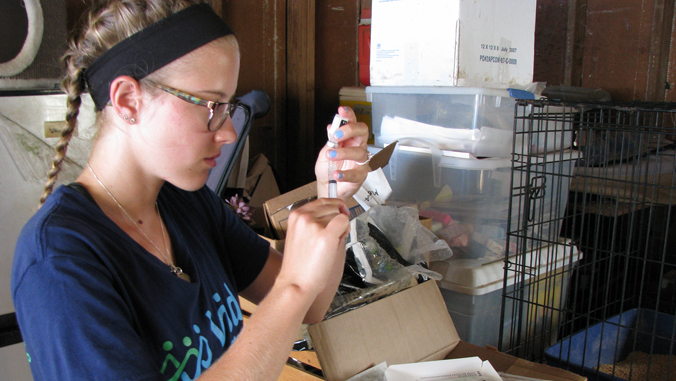 The COVID-19 pandemic has not stopped University of Hawaiʻi at Mānoa Pre-Vet Club students from gaining valuable volunteer experience while providing care to a vulnerable animal population.
Joey's Feline Friends is a not-for-profit, no-kill animal shelter in Kāneʻohe. For nearly two decades, it has remained committed to saving, rehabilitating and finding homes for homeless, abused and physically challenged animals.
During the summer, four students assisted the shelter by operating mini clinics, which involved checking out cats, scanning and recording their microchip, applying flea treatment and, if the cat permitted, trimming claws; and vaccine clinics.
Jessica Jacob, Kennedy Theatre manager and public information officer, started volunteering after she adopted a rescue cat from the shelter in 2015. She put out a call for additional volunteer help.
"I watched cats rehabilitated from abuse, sickness and injury—and thought it would be such a win-win if UH pre-vet students could get more animal-handling experience in a way that would also make a huge difference for the shelter," Jacob said. "I was delighted to receive multiple replies. And they turned out to be exceptional people: mad skills, friendly, reliable, compassionate care-givers for the shelter cats."
Student volunteers
Madyson Marcolina Kelley graduated with a bachelor's degree in animal science from the College of Tropical Agriculture and Human Resources (CTAHR) in May and served as fundraising coordinator for the Pre-Vet Club. Marcolina Kelley said volunteering at the shelter was valuable while finishing up her application to veterinary school. She has also worked at an animal hospital and has two cats of her own, but said assisting cats at a shelter was a different experience.
"In the shelter environment I am coming into their home, and I believe I have a better chance of gaining their trust because it is a low stress environment," Marcolina Kelley said. "A majority of the cats were happy to see us. There was one large black cat that continued to jump on our backs when we would bend over to pick up medication or treats. He was so goofy. We found him with his head in the treat bag trying to sneak extra. The cats have such big personalities and it warms my heart to know I can help them in just the tiniest way."
As a Pre-Vet Club board member, Marcolina Kelley said one of the goals is to provide volunteer experiences for students.
"The majority of the volunteer work we pursue is animal or laboratory involved," Marcolina Kelley said. "We believe it is important for students to gain many different types of volunteer experiences and also for the community to become familiar with pre-vet/animal science students and understand our goals for the future in animal medicine."
Janelle Gong, a UH Mānoa senior majoring in animal science in CTAHR, is also a member of the Rainbow Wahine volleyball team. As a student-athlete, Gong said the rigorous schedule makes it difficult to maintain a job, so volunteering is a great way to gain experience.
"The most memorable moment that I have had volunteering was taking part in the vaccination clinic," Gong said. "It was the first time I had done anything like that before, and I was so excited to learn as much as I could. My overall career goal is to go to veterinary school and become a veterinarian."
Tiffany So is a UH Mānoa senior and works at a local vet clinic. Along with part-time work, she said volunteer opportunities allow her to better explore and enhance her understanding of animal behavior, and help to build her application to vet school. During both clinic sessions, she quickly learned that cats' temperaments can change in a matter of seconds.
"During my last volunteering shift, my friend Britney and I spent quite a while trying to capture, restrain and vaccinate a very aggressive cat," So said. "It was not easy, but the experience itself was humorous and totally worth the trouble. It is important to vaccine all our kitties regardless!"
So's friend and vet clinic co-worker is Britney Price, a UH Mānoa senior majoring in animal science in CTAHR and a student-athlete on the women's track and field team. Price volunteered at Joey's Feline Friends in early July by re-scanning microchips and administering vaccines to about 40 cats. Price recalled the high level of care everyone showed to the shelter cats.
"I was so amazed by how hard the staff work to care for the cats, making sure they are healthy and have a nice new home to go to," Price said. "Being able to help vaccinate and treat even the angry cats made my partner and I feel really accomplished at the end of the day."
—By Marc Arakaki