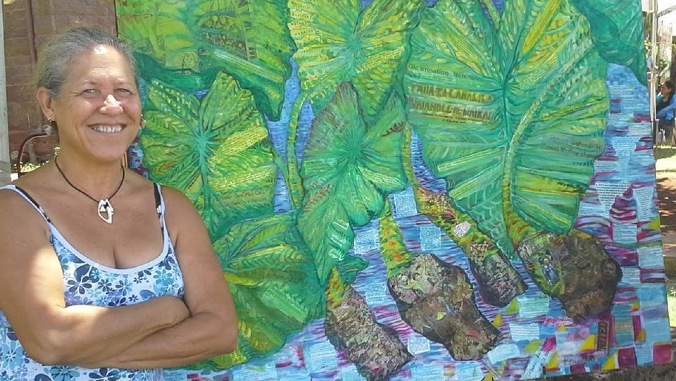 If you're tired of Netflix and would like to watch some thought-provoking, inspiring and engaging films, Windward Community College offers short films from creative media and journalism students enrolled in the spring 2020 semester.
While video production is always challenging, these students managed to finish their projects in the middle of a pandemic and made the abrupt transition to distance learning. Many had to scrap their original ideas and find creative ways to get their projects done, at times using their own cell phone cameras or interviewing people remotely.
"I think their films beautifully capture this unusual and unprecedented moment in time (not all the films focus on COVID-19, though many do). And they show the power of storytelling to find one's voice, to enlighten and to make sense of the world," said Kimberlee Bassford, journalism instructor at Windward CC.
Traditionally, there would have been a student film showcase at Palikū Theatre in May celebrating the students and their work. Now, people can enjoy their films from the comfort of home.
Students in journalism and creative media classes and in Intro to Multimedia (an Early College class at Kailua High School) contributed to the showcase and introduce their films below. Enjoy!
Short Documentary: COVID-19: How My Life Changed
Directed by Jenesis Ellis
CM 220: Intermediate Digital Video
This video is a short example of how my life changed through the COVID-19 pandemic. Even if I did not live with the virus itself, the impact it had on the world changed my life and many others. Now we wait to see how it ends.
Short Documentary: In the Deep See
Directed, Filmed and edited by Brian D. Greene
CM 120: Introduction to Digital Video
This is the final cut of my semester project for CM 120 at the Academy for Creative Media Windward. Due to the COVID-19 shutdown, I was reliant on b-roll that I filmed during an expedition to Cocos Island, Costa Rica in early March of 2020. This is not a "creature feature," more an experiential film to guide the viewer on a virtual dive in the Deep See submersible. Filmed aboard the Undersea Hunter Group's M/V Argo, on location at Cocos Island, Costa Rica. Best viewed in 4k, with good speakers or headphones.
Short Documentary: Essential
Directed by Marielle Lewis
CM 220: Intermediate Digital Video
On December 31, 2019, the CDC became aware of an unknown illness in China. This illness was later revealed to be the coronavirus called COVID-19. This virus became one of the worst pandemics since the flu of 1918. On March 23, 2020, Gov. David Ige issued a stay home order in Hawaiʻii. Only essential workers were allowed to work. In this film, Martin Lewis, an essential worker for Costco Wholesale shares his views on the COVID-19 pandemic.
Short Narrative: Yellow Fever Aftermath
Directed by Noa Helela
CM 220: Intermediate Digital Video
Five years into a dark future, the majority of Earth's Asian population has been deported to Mars under the guise of preventing the spread of coronavirus. A young hapa Japanese woman chronicles her life as one of the last Asians left on Earth through a series of vlogs.
Short Narrative: It Came From the Closet
Directed by Kyle Bowman
CM 120: Introduction to Digital Video
All seems to be an ordinary night for Tyler though it sure seems like some odd things are going on around the house … Nothing sleeping off won't help, surely nothing's in the closet.
Native Stories interview with Meala Bishop
Directed and produced by Noa Helela
Cinematography and editing by Marielle Lewis
Sound by Sangha Webster Schultz
CM 220: Intermediate Digital Video
Since ancient times, kalo (taro) has been a physical, cultural, and spiritual staple in Hawaiʻi. In our origin story, the first human was the younger sibling of the first kalo plant. Among many other sacred traditions, this was interrupted by colonization. In recent decades however, there has been a mass revival in kalo farming throughout the islands. Today, we are here with long time mahiʻai (farmer) and artist Aunty Meala Bishop, who will chronicle some of her and her family's part in the kalo restoration movement.
Short Documentary: My Education Journey
Written and produced by Deja Ceruti
JOUR 150: Media & Society
Deja Ceruti grew up in an isle enclave widely depicted in news media as a place of poverty. This has prompted her to pursue a degree in journalism so that she can tell the story of how the income gap in her community can be addressed through better access to college education.
Short Documentary: Finding Ways to Mark a Milestone
Written and produced by Kiana Ching and Tori Dejournett
JOUR 200: Introduction to Multimedia Journalism (Early College at Kailua High School)
They were in the midst of planning a traditional high school graduation ceremony when the pandemic struck. Kiana Ching and Tori Dejournett share what it's like to forgo some of the pomp and circumstance but still find ways to celebrate their rite of passage during COVID-19.
Short Documentary: Music Power in a Pandemic
Written and produced by Adriana Munoz
JOUR 150: Media & Society
As social distancing measures kept friends apart, music provided a sense of connection. Adriana Munoz reports on this development during the pandemic by interviewing friends, sharing her own experience and presenting research which suggests music can be a healer of social isolation.
Short Documentary: A Day in Quarantine
Directed by Namron Hightower
CM 220: Intermediate Digital Video
The coronavirus has impacted many people in society, and the world is now under lockdown. We are all under self-quarantine, and we must practice social distancing to reduce the spread of the virus. Some people are being driven insane, some people worry about whether or not their loved ones are going to be okay, and many of us are scared. I would like to give you insight into how my family feels about the pandemic.
Short Documentary: Today's Crisis Through the Lens of Yesterday
Written and produced by Will Dozier
JOUR 150: Media & Society
How will the world look back at the COVID-19 pandemic? This question weighs on Will Dozier's mind during the stay-at-home restrictions. He probes for answers as he settles in to talk history with his dad and read up on America's past in order to better understand our present predicament.
Short Documentary: Relax
Directed by Clark Cuadro
CM 220: Intermediate Digital Video
—By Bonnie J. Beatson