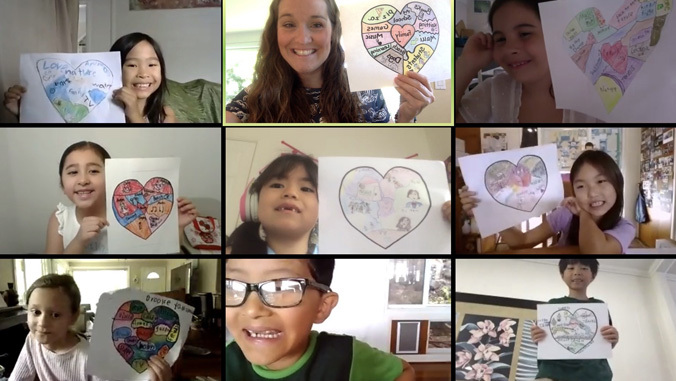 To help alleviate the summer slide (seasonal loss of knowledge) amid the COVID-19 pandemic, the University of Hawaiʻi at Mānoa's College of Education (COE) provided free online enrichment services for K–12 students statewide in June. The month-long series was held weekly for 30 minutes per session. Hawaiʻi public school students met one-on-one and in grade-level appropriate groups via Zoom.
Students and alumni in the college's Institute for Teacher Education, Department of Curriculum Studies, Department of Special Education and Department of Kinesiology and Rehabilitation Science were paired up with K–12 students to work on subjects such as literacy, sports skills and personal training.
"In light of the changes in education caused by COVID-19, the College of Education wanted to offer our services to the university and larger community," said COE Dean Nathan Murata. "The idea stemmed from a conversation with parents who thought it would be a good idea to have our students provide enrichment opportunities for children in an online environment."
"Since the shutdown due to COVID-19, my son had become pretty idle and very comfortable with not having to leave the house. Thanks to his teacher, Coach Eric, and his patience with my son, he has gotten him out of his comfort zone and taught him some great new skills," said Kimberlee, the mother of a student participant. "He exceeded my expectations of this program and we definitely got more out of this than what we expected."
Murata added, "This program allowed our COE students to provide one-to-one specialized attention while honing their skills as future teachers and exercise science specialists. I attribute the success of the summer enrichment to our devoted faculty who felt the benefits for both our college students and the K–12 students."
Cheyne Tanoue, a fourth-year COE kinesiology student, was initially hesitant and anxious about the newly assigned task of teaching via an online platform. "Many questions raced through my head such as how will I motivate and hold the attention of these kids (a 5 and 10-year-old) and how can I make these exercises fun?" said Tanoue. "However, once I started these online P.E. sessions, I realized how it enabled me to practice many of the skills of my targeted profession, a physical therapist, such as thoroughly explaining to a 5-year-old how to do an exercise."
Institute for Teacher Education Associate Professor Stephanie Buelow said, "The students in my Education in Curriculum Studies 605 literacy coaching and leadership course were able to practice the course content and material and provided tremendous support to the volunteers through suggestions, resources and small group instruction."
The pilot program will serve as a model for future programs and collaborations across the UH Mānoa COE and statewide communities. Discussions for enrichment opportunities during the fall semester are underway.
—By Dyan Kleckner