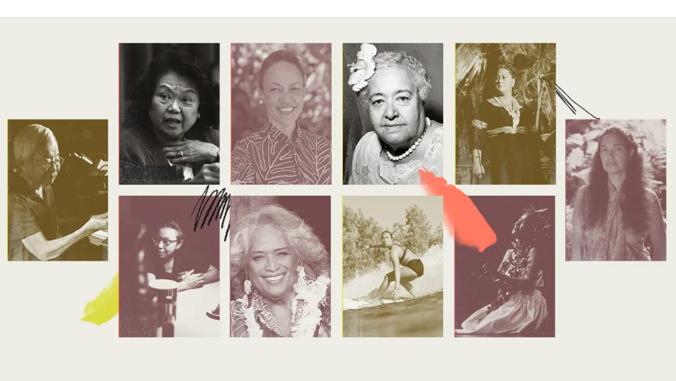 This year marks the centennial anniversary of the 19th Amendment, which granted women the right to vote. To celebrate the monumental passage, USA Today recognized 10 women from every state and U.S. territory as Women of the Century that has motivated and inspired others. Each selectee had to be alive during the last 100 years—1920 to 2020.
A majority of wahine (women) on Hawaiʻi's list are notable University of Hawaiʻi faculty or alumni.
Isabella Abbott
Renowned UH Mānoa Ethnobotanist Isabella Kauakea Yau Yung Aiona Abbott was the first Native Hawaiian woman to receive a PhD in science. Known as the "First Lady of Limu," Abbott discovered more than 200 species of algae and is regarded as the world's leading expert on algae in the Pacific Ocean basin.
Kauanoe Kamanā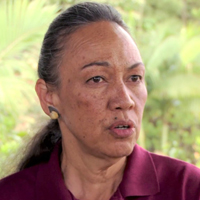 UH Hilo Hawaiian language professor Kauanoe Kamanā is an icon in ʻōlelo Hawaiʻi (Hawaiian language) revitalization. She is a founding member and president of ʻAha Pūnana Leo, a network of non-profit preschools where instruction is strictly taught in Hawaiʻi's mother tongue.
Kamanā is one of the early faculty of Ka Haka ʻUla O Keʻelikōlani College of Hawaiian Language at UH Hilo.
Pualani
Kanakaʻole

Kanahele
Former Hawaiʻi Community College Professor Pualani Kanakaʻole Kanahele is recognized as a national living treasure. She has played an integral piece in the resurgence of Hawaiian practices having been trained by her mother Edith Kanakaʻole in hula, chant and Hawaiian culture advocacy.
Kanahele founded Hawaiʻi CC's Hawaiian Studies program I Ola Hāloa Center for Hawaiʻi Life Styles.
ʻIolani

Luahine
UH Mānoa alumna ʻIolani Luahine was regarded as one of the greatest hula dancers of the 20th century.
The Native Hawaiian kumu hula, dancer and chanter studied under Mary Kawena Pūkuʻi while attending UH Mānoa. Luahine became the first recipient of Hawaiʻi's State Order of Distinction for Cultural Leadership.
Ah Quon McElrath
UH Mānoa alumna Ah Quon McElrath was a Hawaiʻi labor reform leader and social activist, known as one of the state's strongest advocates for the welfare of workers' families.
Born in Iwilei, Oʻahu, she worked in the pineapple canneries as a young girl where child labor laws were non-existent. McElrath helped develop comprehensive health and drug plans for union members.
Patsy Mink
UH Mānoa alumna Patsy Mink was the first Asian American woman elected to Congress.
The Pāʻia, Maui native was an advocate for women's rights, civil rights, education and labor unions. She co-authored the Title IX Amendment of the Higher Education Act which prohibits gender discrimination by federally funded institutions of higher education.
Haunani-Kay Trask
Retired UH Mānoa Hawaiian Studies professor Haunani-Kay Trask was a founding member of Ka Lāhui Hawaiʻi, the state's largest sovereignty organization.
Trask fought for self-determination for Hawaiians and penned poetry books and political essays. She was the founding director of Kamakakūokalani Center for Hawaiian Studies at UH Mānoa.
Hinaleimoana Wong-Kalu
UH Mānoa alumna Hinaleimoana Wong-Kalu is a cultural practitioner, community leader and transgender woman.
She was a founding member of Kūlia Nā Mamo, a community health organization established in 2003 to help improve the quality of life for transgender women. Wong-Kalu is also an award-winning filmmaker. She co-directed and produced a documentary about struggles of the Indigenous transgender community in Tonga.
Caroline Sinavaiana Gabbard
Former UH Mānoa English Professor Caroline Sinavaiana Gabbard was recognized as one of the influential women from U.S. territories on USA Today's Women of the Century list.
Gabbard's the first Samoan in the country to achieve the highest academic ranking of professor. An accomplished author of both academic and non-academic books, her poetry collection, "Alchemies of Distance" was published in 2002.
—By Moanikeʻala Nabarro