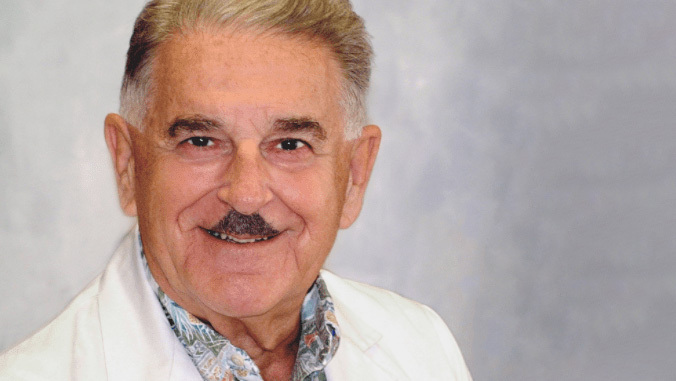 Frank Tabrah, emeritus professor of physiology and community health at the University of Hawaiʻi at Mānoa John A. Burns School of Medicine (JABSOM), died in his Honolulu home in July. He was 100.
Tabrah served as a plantation doctor and researched and published a book on Native Hawaiian plants. Tabrah moved to Honolulu in 1973 and joined JABSOM to develop the Pacific-wide preceptorship program for physicians in training and to provide continuing medical education for local physicians in Micronesia. He served as a physician at Straub Clinic where he held multiple leadership positions and worked for more than 30 years in pediatric, occupational and hyperbaric medicine.
In addition to his extensive experience as a physician, Tabrah was a renaissance man with a wide range of interests. He was an astronomer, scuba diver and had a penchant for history. He was an accomplished musician, composer and master of several instruments including the organ, accordion and string bass guitar. He often performed with local Hawaiian musicians, including Na Leo Kauka, the Physicians' Voices.
"Dr. Frank Tabrah will be long remembered for his warmth and generosity in sharing his knowledge and experiences. Most appreciated was his ability and talent to teach us the principles of providing outstanding medical care in the context and understanding of each patient's cultural foundation and beliefs," said Satoru Izutsu, JABSOM admissions director and vice dean.
Read the full story on the JABSOM website.
—By Deborah Dimaya