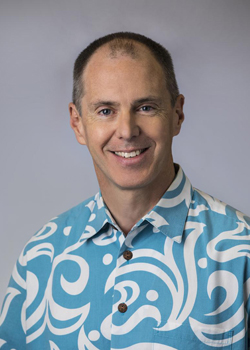 The University of Hawaiʻi at Mānoa Shidler College of Business' annual Flores Real Estate Lecture Series will feature Christopher Benjamin, president and CEO of Alexander & Baldwin (A&B). "Repositioning A&B After 150 Years: Twists, Turns and COVID-19" is a free virtual lecture and will be on Thursday, September 10, 6–7:30 p.m. (HST). The deadline to register on the Shidler College of Business website is Monday, September 7.
Benjamin has led A&B since 2016. He previously held positions as president and chief operating officer of A&B (2012–2015) and president of A&B Land Group (2011–2012). He oversaw the repositioning of the company's real estate business, including the migration of its U.S. mainland portfolio to Hawaiʻi. Benjamin also served as A&B chief financial officer from 2004–2011 and as general manager of Hawaiian Commercial & Sugar Company from 2009–2011. He first joined A&B in 2001.
Benjamin has also served as the chair of Hale Kipa's capital campaign and sits on the boards or advisory boards of many organizations, including the Shidler College of Business, Catholic Charities Hawaiʻi, The Nature Conservancy of Hawaiʻi, Hawaii Agriculture Research Center, Hawaii Business Roundtable and CFA Society Hawaii.
A. Kam Napier, editor in chief of Pacific Business News, will serve as a moderator for this lecture.
More about the Flores Real Estate Lecture Series
The lecture series was established in 2017 through a generous donation from L&L Drive-Inn/L&L Hawaiian Barbecue president and CEO Eddie Flores Jr., and his wife, Elaine. Their goal is to address issues and trends in the real estate industry in Hawaiʻi and provide practitioners with the opportunity to learn and network with industry professionals.
Best known as the founder of L&L Drive-Inn and for his contributions to the Filipino and Chinese community centers, Eddie Flores has been active in the Hawaiʻi real estate industry for many decades. In 1972, he established his own brokerage firm Sun Pacific Realty and later established the Eddie Flores Real Estate School. For his accomplishments, he was named the Educator of the Year by the Hawaiʻi Association of Realtors in 1991.
Flores received his bachelor's degree from the Shidler College of Business and was inducted into its Hall of Honor in 2005.