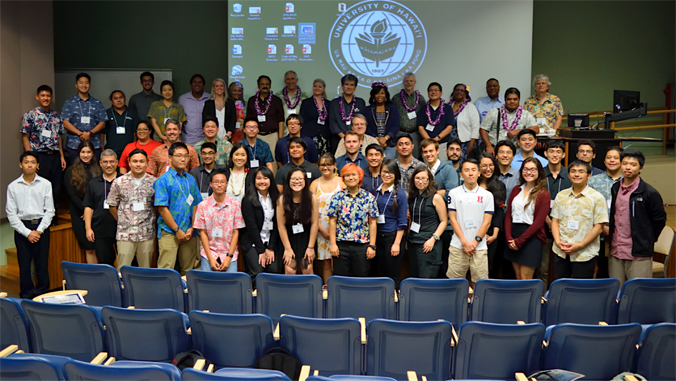 The University of Hawaiʻi at Mānoa's College of Engineering will soon launch a new academy designed to provide engineering opportunities for Hawaiʻi's underrepresented and underserved students, thanks to an approximately $50,000 grant from NASA.
"Planning and Development for a Sustainable STEM-Outreach Program: Hawaiʻi's Aspiring Engineers Academy," was one of 14 proposals selected by NASA nationwide through its Minority University Research and Education Project (MUREP), part of the agency's Office of STEM Engagement, and in partnership with the National Science Foundation.
The UH team, led by Mechanical Engineering Department Associate Professor Dilmurat Azimov, will develop a strategic plan for an aerospace academy that will foster aspiring engineers—the next generation of diverse, qualified candidates to contribute to the groundbreaking work of NASA and strengthen Hawaiʻi's skilled workforce in the aerospace market. The grant will help cover the costs of organizing project meetings, supporting undergraduate and graduate research, covering team salaries, and supporting visits to NASA and project collaborators. The team aims to submit the strategic plan for approval within four months.
"There is a growing interest among the student populations, including the minority and underrepresented students of UH, in the areas of aerospace engineering, especially with problems relevant to space missions," Azimov said. "In this regard, we are working on a unique thematic curriculum with differentiated instruction for multi-age, multi-ability participants to gain knowledge and skills in the relevant areas."
The concept originated as a response to the trend towards STEM-related careers, with the goal of engaging students in the areas of aerospace engineering by further developing the educational and research pathways established at UH Mānoa through the existing NASA-funded Hawaiʻi's Engaged STEM Pathways project. The team's goal is to align these pathways with NASA's 2024 Artemis Program, Mars Sample Return mission and other research priorities of the Space Technology and Human Exploration and Operations Mission Directorates.
About MUREP
NASA's MUREP was established to strengthen and develop the research capacity and infrastructure of minority-serving institutions (MSIs) in areas of strategic importance and value to NASA's mission and national priorities. It supports the training and development of students and faculty at MSIs in STEM fields by providing opportunities for research and education that inspire and prepare minority students for STEM careers.
—By Kimberly Perez Hults