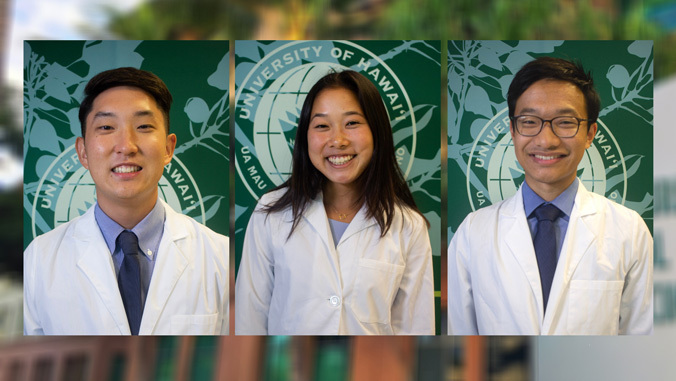 Medical students at the University of Hawaiʻi at Mānoa John A. Burns School of Medicine (JABSOM) are embracing technology to stay connected with their peers and to fill the gap created by a cancellation of hands-on clinical training at JABSOM's partner training hospitals and medical centers. In August, three second-year medical students, together with their faculty advisor Richard Kasuya, launched a new podcast called Docs Talk Story.
"The idea was born when I started listening to similar type podcasts during my morning runs and found them to be so perspective-giving…not only in learning about the wide array of medical specialties but also in being reminded of why medicine is so special through the passion and patient stories of each physician," said Rylie Wada, medical student and podcaster. "I thought it would be awesome if we brought the idea locally, as nothing like it really exists here yet!"
Wada posed the idea to her classmates Enza Ma and Royce Kwon, who with no prior podcast-related experience, welcomed the challenge with enthusiasm.
Spotlight on local physicians
Every two weeks on Tuesdays, the student podcasters "talk story" with a local physician. Together, they delve into how the doctor came to practice their specialty, what a typical day looks like, the best and worst parts of the job, work-life balance advice for medical students and more.
The podcasters hope to feature doctors across all specialties to provide a fun and accessible way to inspire and encourage their student peers.
"I was so excited when Rylie approached me with this idea of making a podcast. It was a fresh, novel idea that hasn't been done before at JABSOM, and given my interests with podcasts, I was all for it," said Ma. "Our physicians and providers here on the island have such unique and wonderful stories, and I just hope that our podcast can serve as an avenue in which these stories of encouragement, perseverance and selfless compassion can not only inspire our listeners but also help them as they decide on their own career paths."
As a medical student, Kwon understands the difficulties that students, especially those in their first and second year of medical school, face in connecting with physicians to learn about the different medical specialties.
"Many of us either don't know what's out there or don't know what kinds of questions to ask. We were motivated to create the Docs Talk Story podcast to help bridge this gap between medical students and different medical specialties. We hope that our podcast helps to provide some valuable perspective, encouragement and inspiration as we grow in our journey to becoming future healthcare providers," said Kwon.
"Even more so now with COVID-19, I think Docs Talk Story can serve as a way to connect current and future docs," said Wada.
Listen to the latest episode of Docs Talk Story.