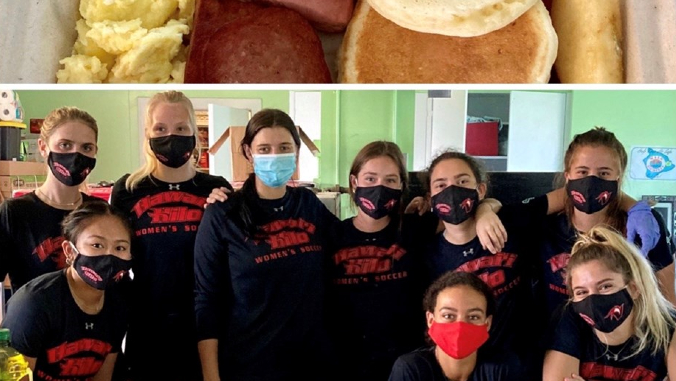 The University of Hawaiʻi at Hilo Athletics Department continues to give back to the community during this time when aloha is most needed. The department's most recent act of kindness featured the most important meal of the day—served up the Vulcan way.
Nine UH Hilo women's soccer players and Coach Gene Okamura helped cook and plate 35 hearty breakfasts of pancakes, sausages, spam, eggs and apples for residents at the Hawaiʻi Island Home for Recovery (HIHFR) on September 12. The effort was coordinated in part by the Rotary Club of Hilo as one of its many community service projects.
"What a great example of leadership and teamwork that these athletes are showing by helping to prepare meals for the residents of the HIHFR," said Rotary member Wally Wong. "It is an inspiration to all, knowing that UH Hilo has created an opportunity for their students to serve in their community during this pandemic."
HIHFR is a residential recovery home that provides safe housing for people in need who desire to live free of alcohol and illegal substances.
"It was a great way to give back to the community and bond as a team at the same time," Okamura said. "We are grateful to be able to lend a hand to this amazing organization."