Students in a summer political science class in the University of Hawaiʻi at Mānoa's College of Social Sciences helped to raise $235,000 in grant funding for local non-profits.
The community internships course allowed students to apply what they learned to assist organizations that support the community. The course had a sub-focus on grant writing and community-centered project design, and instructor Matthew Ing encouraged each student to connect with a local non-profit whose mission aligned with their personal sense of kuleana or purpose.
Over the course of 12 weeks, several students focused their efforts toward helping organizations develop grant applications, improve grants management infrastructure, conduct research for future funding and support ongoing grant-funded projects.
"Too often, local nonprofits lacking the capacity to write difficult grant applications end up relying on expensive consultants, who often have zero connection to our island lifeways," Ing said. "I'm encouraged that almost all of my students intend to stay and work in Hawaiʻi after graduating and to bring the grant writing skills they picked up back to their hometowns."
"Our department trains students to actively engage in the political and social issues that matter to them," said Political Science Department Chair Noelani Goodyear-Kaʻōpua. "I am so proud of our students and grateful for Matt's expertise. It is especially exciting that they were able to raise these funds during such a difficult time for our communities, under COVID-19 and the economic downturn. Our students are empowering Hawaiʻi non-profits and seeing how they themselves can make a difference in the world."
Kalihi-Pālama Culture and Arts Society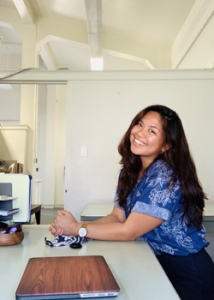 Sarah Champayn Look secured the largest grant of $200,000 from the H.T. Hayashi Foundation for the Kalihi-Pālama Culture and Arts Society (KPCAS) for its Kumu Archive Project, which is a growing historical catalog of 100 years of hula. KPCAS, which also hosts the Queen Liliʻuokalani Keiki Hula Competition, aims to have its catalog of historical documents and oral histories in an online database to share on a global level by its 50th anniversary in 2025.
Although Look took the lead in overseeing the application process and wrote the grant proposal, she credited the help of several others, including Ing and KPCAS Executive Director Guy Sibilla.
"There is no way that I could have done it without my phenomenal support team. It is like one of my favorite ʻōlelo noʻeau: aʻoʻhe hana nui ke alu ʻia (no task is too big when done together by all)," Look said.
Look made a last-minute decision to enroll in the class and she was apprehensive about facilitating and conducting a grant application initially because she had little to no experience, however, it was a decision that she will never regret.
"It ultimately stemmed from my time in the 2016 Nā Koʻokoʻo cohort, under the direction of Kumu Noe Goodyear-Kaʻōpua," Look said. "There were several haumāna (students) that were both a part of Nā KoʻoKoʻo and POLS 403. The Native Hawaiian Student Services office has guided many, such as myself, on a pathway to be amongst some of the most educated and influential kānaka that dedicated their life to servant leadership."
Nā KoʻoKoʻo is an undergraduate leadership program, grounded in Native Hawaiian perspectives. In the past five years, this program has cultivated about 100 UH Mānoa students as emerging leaders who learn to meaningfully take their academic work beyond the campus and to carry responsibilities to the people, lands and waters of Hawaiʻi.
Other projects
Aside from the students' efforts in securing grant funding for organizations, students assisted a total of 17 non-profit organizations in many different ways, such as translating or composing content in Hawaiian language, performing vital research and promoting awareness around issues like increases in domestic violence during quarantine.
"This summer has been tough for everyone. Seeing students rise to the challenge was encouraging," Ing said. "Empathy and a shared sense of humanity drove how class members related to each other and to their ground-level praxis throughout two unprecedented summer sessions."
Ing—who also works for Kaʻānaniʻau LLC, a small Native Hawaiian-owned company working to support communities across the Pacific—sees first-hand the many issues that nonprofits are facing.
"Through my work, I've been fortunate to witness the myriad ways that Indigenous-led non-profits and grassroots groups are drawing on centuries of innovation to address the problems we face today," Ing said. "As COVID-19 reveals structural injustices in our society, and global climate change threatens our island homes, itʻs important to elevate those from our islands to positions of leadership."
—By Marc Arakaki